Boundary Peak
Submitted by Pat

Stats
Mountain: Boundary Peak (3,791)
Date: July 31, 2012
Time: 2.75 hours
Weather: Partly sunny, 70's
Miles: 4
Elevation Gain: 1,307
Trail: ATV road and boundary swath

---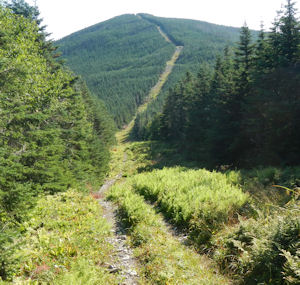 We are up early to start the hour and a half drive to Mt Gosford State Park located in Quebec, Canada, near the Canada/US border. We show our passports at the border crossing and answer a few questions asked by a customs agent with a thick French accent and are waved through. We stop at the park entrance and pay a fee. The park isn't open yet and no one is around so we fill out the form and pay on the honor system. The form is in French and I can't fill out all the blanks. Why no English translation so close to the border? Don't they want to get paid the park fee?
Another long drive to the trailhead. End of the road out comes in the middle of nowhere. We start up an ATV road at 8am and after a short walk on flat ground the road starts to clilmb straight up. Holy Moly! For the first twenty minutes of the hike we slog up this wide but incredibly steep ATV road. Sweating and swearing we reach the top of the ridge and walk out onto the actual boundary swath.
As we begin our walk toward Boundary Peak we pass hunting blinds, salt licks, and areas where deer are hung to be gutted. Shooting at deer at salt licks is not sport in my mind. In fact, shooting animals for sport, rather than for sustenance, is not something I understand. There are three false summits to go over and down before we reach the Boundary Peak summit - also called Panther Mountain as noted on the summit canister. There's a large cairn on the summit on the right of the boundary swath and behind the canister a short path to a view and the actual canister tree. #98!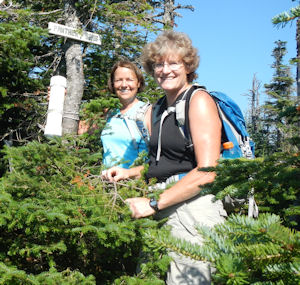 We stop and enjoy the cool breeze, sitting sprawled around the cairn eating a snack. Incredible 3600 views into Canada and the US. We take summit pictures and start back. The walk along the boundary swatch to the ATV road on the right that leads down to the car goes by fast. We hit the ATV trail and Eileen realizes she has left her hiking poles near the summit cairn on Boundary Peak. Too far to go back. She is upset - those poles have been with her for almost every hike she has been on since she started hiking. She has just started not using poles on this Maine trip. I notice earlier that she didn't have poles on the way back but assume she had them attached to her pack and didn't say anything. Now, of course, I wish I had.
Before we know it we are on the very steep section heading down. Footing is sketchy at best - loose rock makes for a hazardous descent - and all of us are slipping and sliding. Unfortunately Eileen takes a nasty fall, cutting her knee and causing a deep bruise on her thigh. She knows and I can see that it's going to be a doozey of a bruise. Ouch!
Lost poles and a nasty fall - enough to make me lose it - but she stays calm and although she distances herself from us for a while she comes back around by the time we arrive at the cars. I offer her my poles for the rest of her hiking journey this week, especially for her hike in Baxter State Park where she will be climbing #98 and #99 on Sunday.
Cold drinks and some lunch taste fantastic. We change into clean hiking clothes and hop in the cars for the drive to our next trailhead. First though we have to navigate our way back out of the park, to the Canadian border where we go through customs and head down Rte 27 in Maine.
98 out of 100 Highest