Going the Distance on the Bonds
Submitted by Pat

Stats
Mountains: Mts. Zealand (4,260), West Bond (4,540), Bond (4,698) and Bondcliff (4,265)
Date: October 23, 2009
Time: 16 hours
Miles: 20.4 miles
Steps: 67,564
Elevation Gain: 5,000
Trails: Zealand Trail -- Twinway -- Bondcliff Trail and back

---
Picture Gallery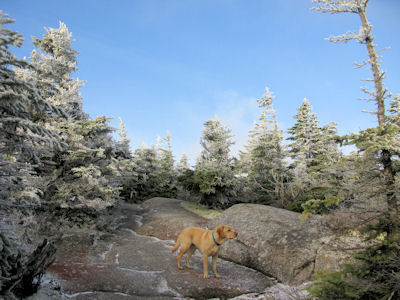 In our presentation I talk about doing the Bonds traverse and how, yes, we can do it, we can do just about anything we put our minds to, but the question is do we want to. And in the presentation the answer is no, we don't want to turn our hikes into death marches, nor do we have anything to prove to anybody. We are in it for the joy.
Two weekends ago Nancy and I made plans to do the Bonds traverse for Dejah's 48 - our choice was between the Bonds, Galehead and Garfield or the Tripyramids. My knee decided it did not want to climb the Bonds and developed enough pain to keep me limping for three days. So I bailed on doing the hiking with Nancy and she went out on her own and climbed Galehead and Garfield solo.
My knee heals quickly and I start to get back to my usual exercise pattern. I need regular high intensity exercise to be able to stay fit enough to climb these mountains without having no legs on the hike itself or muscle soreness after the hike. But since the aerobics class that Nancy taught Monday, Wednesday and Friday was cancelled I was still looking for something to fill that hole. I thought about running on M, W, F - did so once but then let things get in the way. So for the past two weeks I wasn't getting the exercise I normally do. Fitness sloughs off me very quickly - I can almost feel my endurance shortening and my muscles going to flab.
I am determined to climb the Zealand and the Bonds and want some redemption after bailing out on our first attempt so I ask Nancy if she would be interested in doing it on Friday, October 23. Her enthusiasm is not the same as it had been and I don't want to push. We talk about weather, deal with spending a night way from home, which day would be best, does she even want to do this and finally on Wednesday she says yes, book the room, let's go for it.
So I book a room at Shakespeare's Inn in Twin Mountain because it is close to the trailhead and dog-friendly and Thursday evening Pinta and I pick up Nancy and Dejah and head north. We carbo-load at the Olive Garden in Concord and arrive at the Inn after dark. I pack my backpack and we settle the dogs and turn out of the light at 9 o'clock, knowing that 4am will be here in a flash.
The alarm goes off promptly at 4 am and Nancy raises her hand and in a sleep soaked voice says I think I speak for everyone in this room that 4am is too early for anyone! I agree, turn on the light, grab my clothes and start to dress. The dogs eat a hearty breakfast while we eat yogurt, fruit cocktail and pumpkin muffins from Dunkin' Doughnuts. We pack our stuff, throw everything in the car and head for the Zealand trailhead. Pitch dark, 33 degrees, and I throw on my backpack with a grunt. My goodness, it's heavy. What do I have in there besides the essentials - food, water, extra clothes, and safety gear?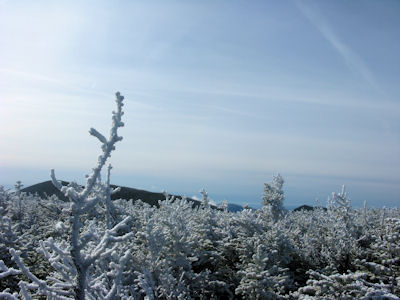 We start up the Zealand trail with headlamps blazing at 5:17 AM. The Zealand trail is where we saw the moose the first time we did the Bonds. The trail is mostly level for 2.6 miles, with 11 bridges spanning deep water, and two water crossings. We are lucky it isn't any colder - the rocks are slippery enough without a coating of ice.
I set a brisk pace and maybe a mile and a half into the hike I start feeling the first hint that something is wrong. My legs feel like lead - no strength at all. The hip belt on my pack is tightened as far as it will go and doesn't sit properly on my hips and I have a dull, thumping headache from caffeine withdrawal.
And I am most certainly in the throes of menopause - I can't figure out how to deal with the sudden hot flashes and the resultant sweat and the cold I feel after the furnace turns off. I know that putting on an extra layer will only provide brief relief so I just keep walking and sweating and walking and sweating. My hip flexors start to scream which translates into we are not in shape to be carrying this heavy pack and this pack is fitting really badly today. I try all sorts of adjustments to get comfortable, pulling up my pants, pushing them down, pulling the hip belt up, pushing it down. Nothing works and I start feeling the bruises forming on my hip bones.
We make it to a dark Zealand Hut a little after sunrise - 6:45 AM - and the sky is overcast with a few flakes of snow in the air. We use the facilities at the hut and move along. The stretch of trail from Zealand Hut to the Twinway ridge is steep - I remembered it as being steep from the first time we hiked it, but it is absolutely amazing how I forget the really hard stuff and gloss over how it really felt to do this hike the first time. Now here I am again and it's all coming back to me.
My legs are leaden - I can't keep up with Nancy's pace. She is always just around the next bend in the trail and I am always struggling to keep up. She stops and waits for me and because stopping makes her immediately cold she starts moving again as soon as I arrive. I don't get any rest time unless I make it for myself - I stop for thirty seconds, bend over my poles, and breathe.
As we walk along the Twinway I have to acknowledge to myself how bad I feel physically and whether I can or should force myself to continue the hike feeling like this. At one point Nancy asks how I am doing and I tell her I don't want to talk about it. I don't want to be the cause of turning around, not after bailing on the traverse two weeks ago, and how much I have been struggling with hiking since my Achilles injury.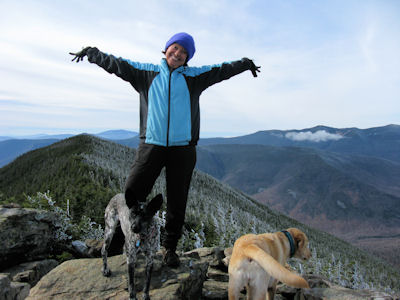 I was just getting back in shape last May when I did a 20-mile road ride and I struggled to maintain any speed because of my breathing and the coughing. I was sucking wind and coughing - I couldn't get a good breath or enough oxygen. What was going on? The patterns continued, sometimes worse and sometimes better, until I finally went to the doctor one day before our trip to the Grand Canyon and was told I probably have exercise induced asthma. You have got to be kidding. In 2003 I had experienced a similar bout of coughing - I wasn't sick, just coughed and coughed and the doctors never did figure out what was going on, and I finally "got better" three months later. The doctor put me on a short course of prednisone and an albuterol inhaler and sent me on my way.
Long story short I have been struggling with breathing on every hike since then. It's not crippling, but it does slow me down and I struggle, gasping on most of the uphill climb. I don't really notice it except for the sound I make and the fact that I can't keep the pace up like I used to. So here we are on the Twinway with 4 4,000 mountains ahead of us and I feel awful - lead legs, breathing hard, my pack not fitting, hot and then cold - I am not the happiest girl in the world.
I really think I am going to have to tell Nancy that I have to turn around and I struggle to know how bad it has to get before I have had enough. That's always been a problem for me - I hate quitting and sometimes I push for too long and the end result is an injury or sickness that takes twice the time to heal than it would have had I been more gentle.
We arrive at the Zealand turn off and I gladly drop my pack so I can walk the .01 mile unencumbered. It is 9:23 AM - we take summit shots and Nancy asks if I want to go on. I feel well enough to go for West Bond, or so I think - I have this misconception that West Bond is near Zealand and as we move down the ridge and back up to the West Bond Spur Trail I realize it is a lot farther away than I think. But I start to feel better - the leaden legs begin to feel stronger and the myriad of discomforts are kept at bay with Ibuprofen.
The spur trail to the West Bond summit is a bit of a surprise, starting out gently and then going down, and all I can remember was a last steep section - but I thought it was bouldering and it turns out to be easy. Again I take off my pack to make the trek to the summit. We arrive at 11:52 AM. The views from West Bond are astounding - one of the most special places in the Whites - the last time we were there was in the summer, now it is the fall and the sun is in a completely different place. We are shooting pictures into the sun when we take pictures of the Bondcliff Ridge. Too bad. After a variety of summit shots we head back down.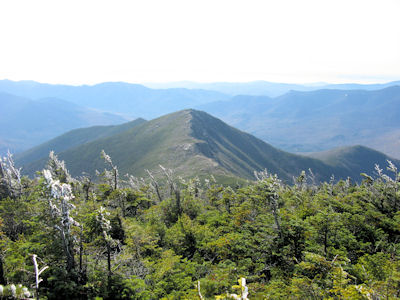 At the junction of the West Bond spur and the Bondcliff Trail Nancy asks if I want to go on, saying, "Bond is only .5 miles away." I still feel well enough to go on, glad to be feeling better. At 12:52 PM we reach Mt. Bond. Both dogs decide we are a couple of nut cases and find some soft moss to curl up on. We both look at Bondcliff, knowing how steep the first pitch is and then the walk out to the height of land. It looks steep and beautiful and harsh. I realize that I can't think of coming back to get Bondcliff and decide to keep going.
I'm OK. My up muscles are starting to hurt, but I'm ok and we laugh at the memory of Nancy going down toward Bondcliff when she was nearing the end of her resources the first time we did the traverse and sitting on a rock crying while I untied her boots. We leave our packs on the summit of Bond and take cameras, water, put on another layer, and head down the ridge. The sun is warm and comforting and the wind gentle. I'm no longer struggling with hot/cold issues. I feel tired but good. The down section is as steep and gnarly as I remember - and neither of us allows the other to say anything about having to go back up.
I get my seventeenth wind and lead to the summit. We arrive at 2:09 PM. I can't believe I made it this far and I look at Nancy and let the reality of having to walk all the way back sink in. It is beautiful and the views are astounding and we each eat an apple while we rest. It is the best tasting Macintosh I have ever had. Tart and sweet - absolute perfection. The dogs are in good shape, although they are definitely ready for a nap. They're not used to being up this many hours without sleep.
We suck it up and head back to Mt. Bond, arriving on the summit out of breath and very happy to be there at 3:09 PM. We change our socks, eat half a sandwich, and throw on packs that are still too heavy. High wispy clouds block out the beauty of the sun and the cold returns back - alternating between hot and sweating and then damp and cold. We make short shrift of the walk back to the West Bond turn off. The next milestone is Zealand, 1.6 miles ahead.
It turns out to be a very long 1.6 miles, although the above tree line section of Mt. Guyot is a very special place for me. But by then my reserves are low and I can't enjoy it as much. Most of the rime ice we had seen on the way out has melted and the views in the afternoon sun are astounding. As we move toward Zealand we start down the ridge and I can see a mountain through the trees ahead of us. Is that where we're going? Oh my. I am pretty done and it looks so far away and there is nothing to do but keep going, one step at a time.
We reach the Zealand spur and put on headlamps as the light is fading quickly and keep walking, eagerly watching for the turn off to the Zealand Hut. I really need to get to the hut, for lots of reasons, and I guess the most pressing is the fact that once we got there it is literally all downhill from there. But the walk from Zealand to the Hut is long and wet and icy and then it turns steep and rocky and slick. I am pulling up the rear by this time - the brief strength that I had felt earlier when I actually set the pace is gone. Both of us are tired and the dogs' reflective eyes look like tiny, alien moons in the darkness.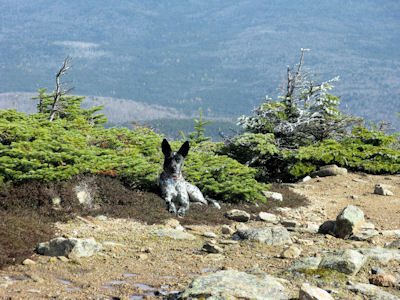 Trying to encourage me, Nancy says, "When we hear water, we know we're close." And down we go, boulder after boulder after rock after root. And all I can hear is my breath rasping in and out of my mouth. Then finally we start to hear water - whoo hooo - and stepping out of the woods to see lights on in the hut is a wonderful moment. By this time I am pretty wasted. I use the facilities and when I come out Nancy is talking with Elizabeth, one of the hut's caretakers, who invites us in for a warm drink. I make myself a cup of coffee without enough creamer and sit at one of the tables hardly able to move. Dejah finds a spot under the table and lies down. Pinta is sitting under the table swaying, her eyes closing and then she snaps awake and then starts swaying again. All they want is some sleep. Only 2.6 miles more and most of it flat and clear.
"We can do this," says Nancy. Yes, we can. I feel amazement that we have been able to do the whole traverse. I have never been so close to calling it quits and am so glad that I have been able to find something deep down inside me to keep on going. Once we get down to the level trail, we take off our stabilicers and start to really move. Nancy says, "Let's just go as fast and as hard as we can. We'll be there before we know it." The other option is to trudge along and let the exhaustion deepen and our bodies and minds fall into a place where even the slightest effort feels overwhelming. So we move fast. I bring up the rear but am able to stay fairly close to Nancy most of the time. I don't know how I do it - every so often I lose my balance and literally stagger to one side or the other like I am drunk. If I hadn't had poles I would have fallen time and again. As it was I am barely able to stay upright with the poles, but I do stay upright and I push and keep up.
I don't really know where I find that last bit of energy and although I haven't reached the end of my strength I have never felt this exhausted in my life. I feel nauseated. I am hungry, very hungry, but the thought of eating a power bar or more trail mix is too much. I want a burger and fries. Fat, protein and carbs and lots of them. By the time we reach the parking lot at 9:13 PM I am disoriented and barely making sense. The idea of driving all the way home doesn't feel possible and yet I sit behind the wheel and prepare to back out, with no idea where I am or what direction I had parked in relation to the road leading out of the parking area.
My driving is slow and tentative - going fast isn't possible and yet I want to get the out of there and get something to eat. The nausea is strong, my head is pounding, and my body will not warm up. Once I get out to Rte. 302 I realize I am in trouble - I can barely keep the car in my lane. Nancy wisely asks me to pull over and we switch places. She asks if she should take me to a hospital. I say no and suggest we stop at Shakespeare's Inn and see if we can get something to eat.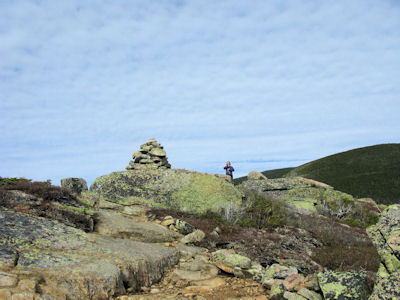 We pull into the parking lot and I ask her to go in and see if they will serve us. I sit in the car, alarmed by how badly I feel. I finally get out of the car and go in, shivering and walking very slowly. Nancy says they are willing to keep the kitchen open and feed us real food so we both order Texas Burgers and fries and sit down in the dining room. The wait staff are attentive and Karen, the cook, very kind - I am shivering, breathing too fast and drinking. That should have been a clue, but I miss it completely. I must drink 6 glasses of water. The burger is delicious but I can only eat half. The nausea starts to fade and my last bit of energy fades with it. I suggest we stay the night - I know Nancy wants to get home, but I know I am not able to drive and I wouldn't be able to stay awake to keep her awake on the drive home.
We book a room. I dump my stuff on the floor, feed Pinta and head straight for the shower and just stand there with the water as hot as I can stand it for 15 minutes. Finally, finally I feel warm, human, like Pat again. While Nancy showers I pull my exhausted legs under the covers and get into bed. I still am not thinking clearly enough to know what kind of shape I really am in. I don't ever remember being this exhausted...ever.
I sleep and feel 100% better the next morning, although I am desperately thirsty and drink most of the day. Once home I drag myself into the house, tell my house mate about our adventure, and head straight to bed. I sleep two hours in the morning, three hours in the evening, and all night, drinking and peeing and peeing and drinking. My whole body is sore, arms, wrists, triceps from holding myself up on the trekking poles and ankles, toes and calves from the hike. Wow - I think I reached a limit and although if my life or Nancy's had depended on it I would have found a little more, I was glad that I didn't have to dig any deeper and was glad to hear Nancy say she is in no hurry to do the Bonds again, if ever.
Yes, we did it, we can do anything, but do we want to?