Blessings on the Bonds
Submitted by Nancy

Stats
Mountains: Mts. Zealand (4,260), West Bond (4,540), Bond (4,698) and Bondcliff (4,265)
Date: October 23, 2009
Time: 16 hours
Miles: 20.4 miles
Steps: 67,564
Elevation Gain: 5,000
Trails: Zealand Trail -- Twinway -- Bondcliff Trail and back

---
Picture Gallery
"If you live the life you love, you will receive shelter and blessings. Sometimes the great famine of blessings in and around us derives from the fact that we are not living the life we love; rather, we are living the life that is expected of us. We have fallen out of rhythm with the secret signature and light of our own nature."
John O'Donohue
"Happiness is the consequence of personal effort. You fight for it, strive for it, insist upon it, and sometimes even travel around the world looking for it. You have to participate relentlessly in the manifestations of your own blessings. And once you have achieved a state of happiness, you must never become lax about maintaining it, you must make a mighty effort to keep swimming upward into that happiness forever, to stay afloat on top of it. If you don't, you will leak away your innate contentment. It's easy enough to pray when you're in distress but continuing to pray even when your crises has passed is like a sealing process, helping your soul hold tight to its good attainments."
Elizabeth Gilbert, Eat Pray Love
"When I started counting my blessings, my whole life turned around."
Willie Nelson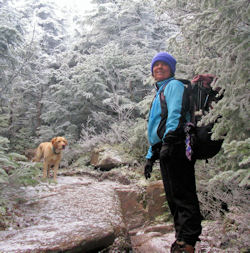 Dejah, my daughter's 4-year-old yellow lab and my trail dog, has six mountains left before she can get her patch for climbing the 48 mountains in New Hampshire over 4,000 feet. Four of them she can get in one huge hike -- Zealand, West Bond, Bond and Bondcliff. It's the only hard hike left - it is really our last hurdle. So Pat and I have to do them again. The first time we did this hike, it was a death march. But we are wiser and stronger three years later.
This time I find the blessings.
Sleeping with Dejah...Dejah is curled up on my bed at Shakespeare's Motor Inn in Twin Mountain. I love having her sturdy yet soft warm body next to me. I know she loves me when she leans against me. Pinta has settled on her bed. Pat on hers. It is 8:30 PM and the alarm clock is set for 4 AM.
Having a morning person for a hiking partner...4AM comes way too soon as far as I am concerned. But Pat immediately turns off the alarm, flips on the lights, jumps out of her bed and is in the bathroom before I can even register where I am or that I am supposed to be doing something. No need to worry about over sleeping with Pat around.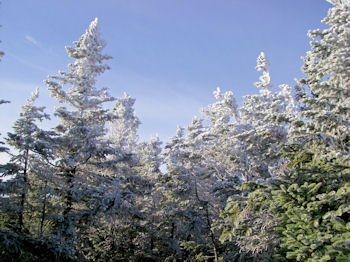 Hiking before dawn...We are on the trail at 5:17AM. There is something spiritual about hiking in the dark and stillness of predawn. I feel enveloped in a space of nothingness. Pat is quite a ways behind me, and I hear only my own breath, and see just a bit of the path in front of me lit by my headlamp's weakened glow. It is just me in this seemingly endless black hole filled with a huge crisp silence. I walk forward and the presence of me pushes into the empty space in front of me. My focus goes inside where I feel calm, curious and centered. It doesn't even occur to me to be surprised by this. When I first started hiking, the woods, the darkness, the cold and being alone were all situations that sent me abruptly back to a traumatic time in my childhood when adults did the unthinkable and I survived despite them. Sometimes it is hard to be aware of what is NOT happening. In the moment, I do not see the most amazing absence of that emotionally charged experience. The nothingness of predawn is profound and empty for me. And that is good.
First light...Dawn surprises me and seems to come all at once. We are past the Zealand Hut, almost all the way up the steep section of the Twinway Trail when I realize that I have been joined by the trees and am surrounded by bare branches and rime-ice-coated evergreens lining an icy trail. I do not need my headlamp anymore. Dawn announces that I do not live in a black empty hole but in world filled with wonder and that I am not alone, but with Pat and Dejah.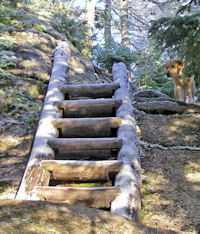 Attitude adjustment...The trail is slippery, ice here and there on rocks and covering puddles. We get to a water crossing and I step on a rock and realize, too late, that it is slick with ice. I fall back, pack first. I am trying to get up, but the weight of the pack is making it impossible for me to get enough momentum to sit up. Pat helps me. I'm wet and angry. I say to Pat that we waited too long to do this hike, that we should have done it in summer when we wouldn't have had to worry about ice. I walk on in silence and realize that I will ruin the hike for myself with that kind of attitude. I am acting like someone made us do this hike today, like I am a victim. But no, I am responsible for my choices. So I can bemoan that it is not the perfect weather for a long hike, or I can find the blessings hidden amongst the ice and chilly temperatures. I put on my stabil-icers and keep climbing. I can feel the poor-me-anger slough off as I hike. That feels better.
Blue skies and sunshine...The clouds are heavy and seem very thick at first light and I wonder if the weatherman, who predicted sun today, will be wrong. Forecasting the weather in the Whites must be quite a challenge, because it seems they are often inaccurate! I feel a bit of a breeze and I look up and see the clouds parting, revealing bright blue skies. I immediately feel the warmth of the sun on my face. Behind me I hear Pat roar in celebration. We see the sun for the rest of the day, until her journey ends before ours.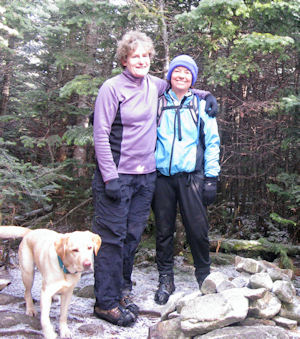 Ladders and the learning curve...The last time we encountered a ladder, it was on Cannon Mountain. Pat fell trying to help Dejah avoid the ladder by climbing up the side of an incredibly steep ledge. And I fell on Jefferson, trying to help Dejah up a shear rock ledge. We recovered, but the memory of those falls is still vivid enough that as soon as I see the ladder on the Twinway Trail I say a bad word. Then I see Dejah, above the ladder, smiling down at me. I imagine she is saying, "Look at me Grammy! I did it!"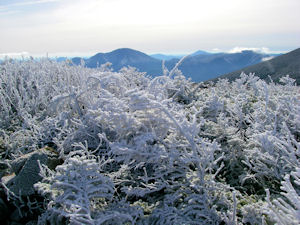 The natural beauty...The snow on the needles of the evergreen trees forms a white snowflake design on a backdrop of green branches that catches my eye. I love that I didn't storm by, knocking the snow off the nearest branches, but instead, stopped and wondered at the magnificence of the pattern. Just like I marvel at the patterns in the ice puddles along the trail. I am more aware of the beauty around me today than I was when we first started hiking. It used to be only the big views that got my attention. Now I notice the details -- the delicate flowers, the ice beads, and the moss and mica.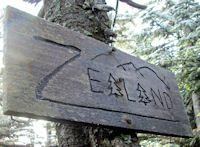 Summit signs...I love it when I don't have to wonder if I am on the summit of a 4,000-footer. We get to what appears to the be the top of Zealand at 9:23AM and I immediately look for the sign I remember from the first time we were here - a hand-made, wooded sign, with trees for the As in Zealand. YES - there it is! One out of four. We high five and head back to the Twinway Trail.
An unwillingness to give up...Pat has been struggling for most of the hike. Her legs are lead and she is having trouble breathing. Her pack is heavy and no longer seems to fit properly, causing pain on her hips. She has a headache from no caffeine and is suffering from hot flashes that leave her sweat-soaked and cold. I ask her if she wants to turn around. She says no, let's bag West Bond.
Being above tree-line...All of a sudden we find ourselves above tree-line, approaching Mt. Guyot. The scene is spectacular and we pause to take it in. The shrubs around us are coated in bright white rime ice and the blue mountains in the distance go on forever, fading one into another, mountains beyond mountains. I spontaneously take a deep breath, trying to breathe in the beauty so I can take it with me. I love it up here.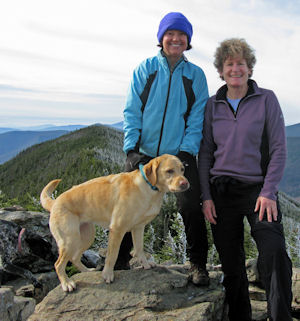 The weight of the pack off my back...We get to the West Bond Spur Trail, and it is half a mile from here to West Bond. We take off our heavy packs and dump them at the trail intersection. I immediately feel weightless. Ohhhh, that feels so good.
Two down, two to go...We bag West Bond at 11:52AM. Yippee! Half done. High five. Pat and I had talked about doing ten pushups on each summit. We blow that off. Very smart.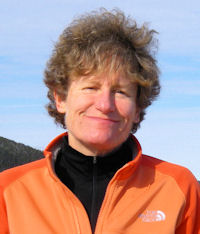 ONLY half a mile...Back on the Twinway Trail, our packs back on our backs, I look at Pat, who is still struggling, and tell her that Mt. Bond is only half a mile away. A half a mile! Half an hour and we will be there. She smiles and says let's go.
Hiking with my best friend...For much of the hike I am ahead of Pat. I wait for her, but then I start getting cold and as soon as she catches me, I start up again. So, for much of this hike, we are not together, talking and sharing the way we often do. She is trying to keep up and I am trying to stay warm. But somewhere along the Twinway Trail, she catches up and stays with me and I feel the comfort and ease of having my friend with me.
Naps - maybe not quite yet...We bag Mt. Bond at 12:52PM. The views go on forever and I can't stop taking pictures. As I am clicking away, I notice Pinta and Dejah are looking for comfortable places to lie down. Ummm, not so fast...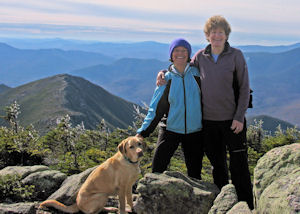 Second chances...In 2006, when we hiked the Bonds the first time, I had tears in my eyes climbing down the steep section between Bond and Bondcliff. I just couldn't imagine where I was going to find the wherewithal to get myself all the way out to Bondcliff and then all the way back over the Bonds to the car. I was way out of my comfort zone. This time, as Pat and I make our way out to Bondcliff, I know what lies ahead. I have no tears. I know I can do this. There's a steadiness in my heart that feels really strong and confident. I have come a long way.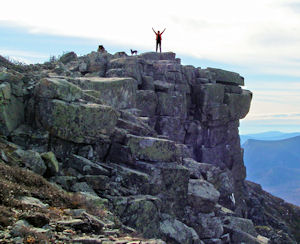 Poignant photo op...On the way out to Bondcliff, we see a great photo opportunity. Pat goes over to a cliff with the dogs and I shoot a few pictures. They look like silhouettes on a mountaintop, a hiker, arms over her head in victory, her dog by her side. To me the picture captures the essence of Dejah getting her 4,000-footer patch. It will be a celebration of Dejah, the mountains, Pat and me.
An apple and Dejah...We bag Bondcliff at 2:09PM and sit down on the summit in the warm sun and eat an apple. Wow -- an apple NEVER tasted so good -- crisp, sweet, juicy; it ranks right up there as one of the best things I have ever eaten in my life. Dejah snuggles right up next to me, looking at me with big brown eyes, hoping I will share, which I do.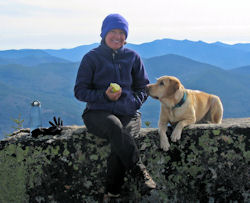 Bite-size pieces...Thank God for my White Mountains map that shows the trails and mileage broken down into bite-size pieces. It is 1.2 miles back to Mt. Bond, then just half a mile back to the West Bond Spur Trail, a mile to Mt. Guyot, 1.3 to Mt. Zealand, 1.6 to the top of the steep section, 1.3 to the Hut, 2.7 to the car. Each segment is doable. All together it could freak a tired hiker out. But we just take it section by section. It is long, but each bite-size piece eventually comes to an end and I have that good feeling inside of me that we are getting there. I keep reminding Pat of this. I had hoped we would get down the steep section of the Twinway Trail to the Hut before dark, but no such luck. From Zeacliff Pond to the Hut we climb down carefully in the dark, our headlamps lighting the way.
Elizabeth...It's 7:30PM and I am sitting on the bench in front of the Zealand Hut when a young woman comes out and introduces herself as Elizabeth, the Zealand Hut caretaker. She invites us in for a hot drink. We ask her if the dogs can come in so they won't run off, and she reluctantly agrees. I make hot chocolate, Pat gets her first coffee of the day, and then we sit down. Ahhhhh. It feels so good to have the pack off and be sitting. I feel light and heavy at the same time. I can feel the hot chocolate going down my insides, like it is life itself, re-infusing me with the energy I will need to get back to the trailhead. I glance around the room to find Dejah. She is curled up next to the caretaker's feet under the picnic table, sound asleep.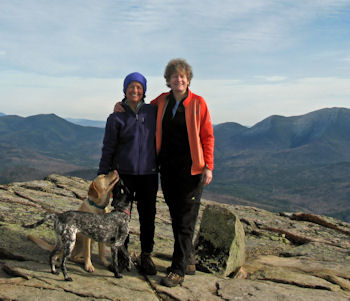 The last hurrah...Only 2.7 miles to go. I know we have to keep moving. I want to get to the car before we lose what little gumption we have left. I set a quick pace and pray that Pat can keep up. Every once in a while I yell back to her, "You with me?" She responds, "With you!"
Counting down the bridges...Pat, smart hiker that she is, counted the bridges on the way in. There are 11. So as we cross them, we count down, 10...9...8...7...6... getting ever closer ...5...4...3...2...1. We arrive back at the car at 9:13PM, exhausted. The dogs get in the back of the car and are instantly asleep. Pat is hungry and shaking with cold.
Karen...We drive back to Shakespeare's Motor Inn and ask if they are still open for dinner. I can see from the woman's face that they are closed. She introduces herself as Karen, looks at my tired face and asks me what we would like for supper. We order hamburgers, and are treated to a delicious meal with great service. It is late and we are too tired to drive the three hours home, so we decide to stay the night at the Inn.
Hot shower...I am worried about Pat who is still shaking, so I send her into the shower first. She comes out looking like Pat again and I let go of my worry. Now, it is my turn. The water is hot. The cold seems to melt off my bones and slide off my skin as I stand under the fine spray of a deliciously steaming shower. Ahhhh, I am alive. And then it occurs to me. Four mountains, 20 miles, 5,000 feet of elevation gain, 16 hours of hiking. We made it. I just stand there, soaking in the moment and the heat of the running water.
Checking off four mountains...I get home and take out Dejah's 48 4,000-footer mountain list and check off Zealand, West Bond, Bond and Bondcliff. Only two mountains left for Dejah to earn her patch! Whooo Hoooooo!