A Big Day on Big Slide
Submitted by Pat

Stats
Mountain: Big Slide (4240)
Date: November 29, 2009
Time: 7.5 hours
Weather: Sunny AM, cloudy PM, 40's
Miles: 9.4
Elevation Gain: 2,705
Trails: Brothers Trail to summit to Rocky Brook Trail to Phelps Trail

---
Picture Gallery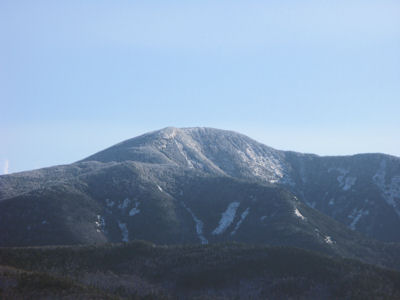 The Sunday of Thanksgiving break is the only day where the weather looks good - at least there's a sun in the picture - so we decide to hike on Sunday. Last Saturday we climbed our first 4,000 footer in the Adirondacks - Giant - but our views consisted of a beautiful sunset and an amazing moonrise. So this time we are both looking forward to actually seeing more of this new mountain territory. Knowing I have to go to work the next day, I pick a fairly easy hike - two mountains, Cascade and Porter - Cascade with a bald top due to a forest fire and Porter with some views as well - and only 6.3 miles round trip.
On the drive over Nancy reads trail descriptions and I mention that I had also looked at climbing Big Slide - two huge avalanche slides occurred on the west and north sides of the mountain in the 1800's and clearly that's where the mountain got its name. I read that there was a fairly challenging loop - I really like loops instead of hiking out and back - I like fresh scenery all the way. But this is a 9.4 mile hike and we are looking at getting home around 10 or 11 PM. I know my heart wants the challenge. My head, very smug and reasonable, suggests a shorter, easier hike. Nancy and I banter the possibilities back and forth and I can feel us gravitate toward the challenge and the rewards that climbing Big Slide will bring us. The day is beautiful and sunny and we can't resist. Big Slide it is.
We drive through Keene Valley looking for a sign that says "Trail to the High Peaks" but see nothing and return, stopping at the Noon Mark Diner to ask directions. We drive back up Rte. 73 and see the sign, but it looks like they used peel and stick letters and most of them have curled or fallen off. No wonder we miss the sign. Up we drive to what folks call the Garden which is a popular trailhead for a bunch of trails in the area. Pinta and Dejah, our trail dogs, are bored with sleeping and are ready to go.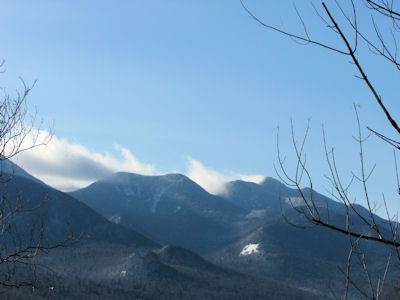 We put on gear, attach our Stabilicers to our packs, and get ready to go. A car with 3 men arrives while we are getting ready and one of them tells us that Big Slide will be his 46th Adirondack peak. We whoo hoo and celebrate his accomplishment. There is a sense of pride on his face and on the faces of his companions. It feels really good to cheer him on. Of course, they are young hiking studs and we don't expect to see them again.
We start out at 9:41 AM on trail McM #112, ADK #15 - The Brothers - I don't know why they number their trails and I don't know why there are two sets of numbers - one set for the Adirondack Mountain Club and one for the Discover Guides written by Barbara McMartin and Bill Ingersoll - but there you go. The trail immediately starts climbing. No gentle warm up before we start breathing heavily. So far both mountains we have climbed start off with a bang - no warm up. Ok, then - we can do this. We walk through naked white birch and poplar forests and almost immediately start to see snow. The snow gets deeper as we climb and so does the mud. From what I have read the Adirondacks are known for their mud and as we slop through the trail I start to believe that is a true statement.
Shortly we come out to a ledge where we can see the Johns Brook Valley spread out before us and slightly southeast stands Giant, the mountain we climbed last week, and we can now see it in all its white-topped glory. Wow - absolutely beautiful. We walk on ledges, climb through boulders, weave in and out of the woods and take pictures often. The day is stunning - bright blue sky and a warm sun. The snow starts getting deeper and walking in the woods is like walking in a winter wonderland, without the ice. The snow has fallen on bare ground, unfrozen ground and it sticks to every tree branch. We bare boot it up the second brother and finally put on our Stabilicers for traction.
We are really lucky other hikers have broken trail before us, because if we had tried to follow this trail with the trail markers on trees and the blazes on the rock, we never would have found our way. Most of the rock blazes are covered with snow and the cairns are too small to be much help in a deep snow. So we are happy to walk a broken out trail and not have to guess the direction to take at every turn.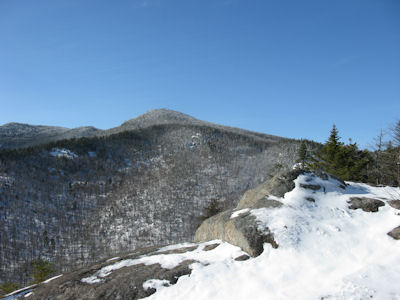 Unlike my experience climbing Giant last week, my breathing feels more "normal". I'm not gasping for breath and coughing every time I try and breathe deeply. So why did I struggle last week and why not today? Do I have exercise induced asthma or not? I am looking forward to a diagnosis. This breathing thing is too unpredictable for my liking.
Both Nancy and I feel our legs on the way up so the climb feels hard. We don't dwell on it, but we mention it to each other, wonder what's up with that, and keep going. We meet an older gentleman who has climbed the ADK 46ers five times, as well as the 48 in NH. We urge him to finish the 67 in NE and tell him about our wonderful experiences climbing the 4,000 footers in Maine. He is very knowledgeable and friendly, proud of his accomplishments as he wears a baseball cap with 46 on the front. As we crest the last brother we meet our friends from the parking lot and cheer the young man who bagged with 46th peak. He was wonderfully shy and proud and one of his companions told us that he had presented him with his ADK 46 patch when he reached the summit. That seems to be a tradition with the ADK club, unlike the NH club where you are presented with your patch through the mail and a certificate if you attend the awards ceremony in April.
We push on, climb one last challenging ledge and find ourselves on the summit at 1:35 PM. We are disappointed though because the clouds have moved in and the views disappear as we sit on top and eat our sandwiches. Well, we got some incredible views on the way up so the clouds must be the perfect experience of this new moment. After a quick summit picture, we start back down to the trail intersection. Decision point. Should we go back down the Brothers trail - 3.7 miles - or do the loop - 2.1 down the Slide Mt. Brook Trail and then 3.1 on the Phelps Trail - relatively flat - back to the Garden where we parked the car.
We decide to go for the gusto and start down the Slide Mt. Brook Trail - good choice - this trail is much less steep than the Brothers trail and we make good time getting down to the intersection with the Phelps Trail in an hour and a half. We turn left and start the slog back to the car. And it is a slog - the mud is unbelievable. It is everywhere - there is no escape. We make futile attempts to walk around it but that just slows us down. Eventually we do what we usually do on the last stretch of a hike - walk straight down the middle of the trail, through the mud, who cares. Nancy thinks we will be back at the car no later than 5:45 PM. I guess 6:30, but like her guess a lot better. We take a snack break, put on our headlamps, take off our mud encrusted stabilicers and go.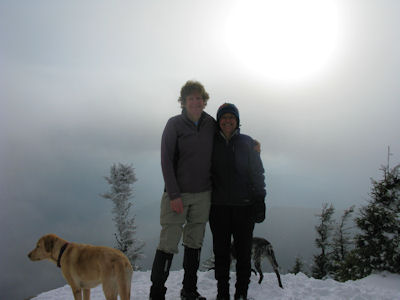 There is something otherworldly about hiking in the dark. My whole universe shrinks down to a small scrap of the magnificence around me - just my light on the trail, a few feet in front of me, and the dogs' eyes glowing gold and green when I look up at them. The trail markers on the trees are reflective, making route finding much easier than here in NH where we use painted blazes. Both of us draw ourselves into a stolid place of putting one foot in front of the other as we head back. We don't talk much except for the occasional, "You still with me?" And the "Yup, still with you" response.
We cross the Slide Mt. Brook 5 times, always fun in the dark, blasting over on snow covered rocks. All of a sudden we see a sign - .5 miles to the Garden - whoo hooo - we move down the dark trail with renewed energy and reach the parking lot at 5:35 PM. Yes! The car looks so good and it feels so good to take off gaiters and muddy boots and change into warm, dry clothes. I hear moans of relief while we load up the car and change our clothes. It feels so good to take off those boots, so good. We drive down to Keene Valley and stop in to the Noon Mark Diner for a bite to eat. We decide to order a bowl of soup and a muffin so we will have room for dessert - I am thinking a hot fudge brownie sundae and Nancy is contemplating a piece of homemade strawberry rhubarb pie - but the muffin is huge and very filling and combined with the soup we are pretty much done so we pass on dessert.
I'm so glad we opted to climb Big Slide. We can save the easier ones for later...just in case. For now, let's just do it!
2 out of 46 Adirondack 4,000 Footers