Practice Makes Perfect on Baldface
Submitted by Nancy

Stats
Mountain: South Baldface (3,570)
Date: August 28, 2010
Time: 9.5 hours
Weather: Warm, sun and clouds, very light breeze
Miles 8.4
Trails: Baldface Circle Trail, Baldface Knob Trail, Slippery Brook Trail

---
Picture Gallery

"Backpacking: An extended form of hiking in which people carry double the amount of gear they need for half the distance they planned to go in twice the time it should take."
~Author Unknown



Pat and I are so different.

Thank God.

******

We're going to the Grand Canyon on September 7th. What a trip we have planned! We are hiking to the Colorado River four times from four different points on the rim:
From the North Rim, Lava Falls to the river and back - a one-day 3-mile hike straight down and then straight back up, extremely difficult and treacherous. We tried this last year, hiking for 3.5 hours before we turned around. This time we are determined to make it.



From the North Rim, Thunder River / Deer Creek - a 4-day, 30-mile hike to the River, each night camping in a different spot.



From the South Rim, South Kaibab Trail to the River and back in a day, 14 miles. We did this last year but stopped on the bridge. This time we are going back to do it all the way to the river.



From the South Rim, Hermit Trail to the River and back, 2 days, 17.4 miles.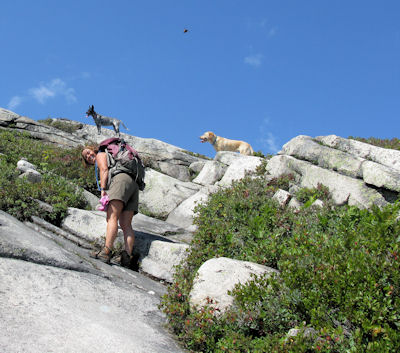 Our goal is to put our feet in the Colorado River 4 times. It's going to be quite a challenge. We've hiked the corridor trails, which are the main trails leading into and out of the Canyon on both the North and South Rims. So this time we are hiking some of the lesser-known trails. And in order to get to the river on some of these trails, it will take us days - which means we have to camp. Now, let me be the first to tell you, camping is not my favorite thing. But the Grand Canyon is and I will do just about anything to get to know her better, including camp.
We start planning the trip and Pat's and my differences come out like the stars on a clear bright night, one after the other.
"I think we should sleep under the stars," I say.
I'll feel safer in a tent," Pat says.
"I'm going to bring a chair sleeve to go over my thermarest air mattress so I have a chair to sit on in the canyon," say Pat.
"Holy moly," I say, "How much weight will that add to our pack? I'd rather sit on a rock."
Then we talk about the food.
"I'd just take some bagels and peanut butter and jelly and eat that for 4 days. I want to keep it simple and I don't want to carry a ton of stuff in my pack. And I hate cooking," I say.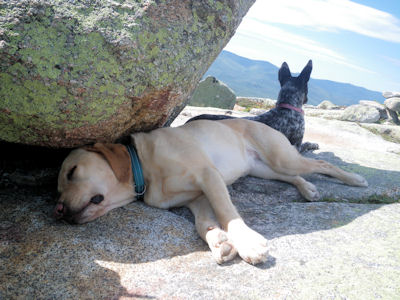 Pat smiles. "Well, I like to cook and I want to have good food and I don't mind doing the research on this. We will need to eat for fuel and they have some great freeze-dried camping food out there."
"Okay," I say, reluctantly, "if you want to figure all that out and you feel comfortable making it, that is okay with me, but it is not my thing."
So Pat has been doing research on food and stoves and fuel and freeze-dried products and has come up with a great menu for our camping trips. She has bought food, a stove and fuel and bowls and pots and spoons. She has tested macaroni and cheese and reports that it is great. And, she has tested the stove, apparently lighting her kitchen counter on fire and having to put it out with a fire extinguisher, spraying chemical powder over the entire kitchen which led to a really fun clean-up. She tells me this in the car on the way to Baldface Mountain. I am thinking that peanut butter and jelly sounds a hell-of-a-lot easier... and safer.
Pat likes to practice. I hate it. I know practice is valuable, even necessary. But once I have done something, why do it again? That's my philosophy. Luckily Pat thinks differently. So she is bringing the stove and pots and bowls and food for a lunch on top of Baldface to practice. I am thinking that having lit her kitchen on fire once, she will be fine on the mountain.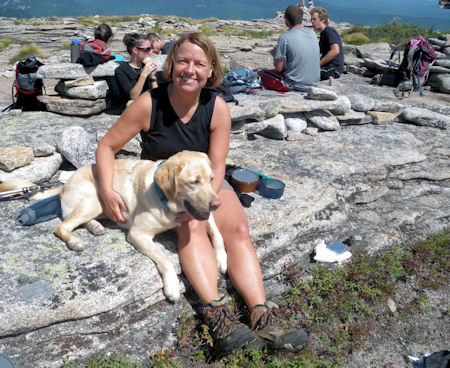 As we hike in on the Baldface Circle Trail, walking through the woods, we talk about the trip. Every time we talk about it I get more excited. We are going to the Canyon! We always come around to talking about the food. And every time, Pat brings up another piece of equipment for cooking or cleaning or stirring or making that we will need. In my mind I see us hiking into the Canyon with packs three times our size, pots and pans dangling off our packs, banging together making a racket, and a long line of cooking utensils dragging behind us.
I asked her a few days ago what we do with leftover food. As we hike up the trail, she tells me that whatever we pack in we have to take out. In my mind I now add smelly gross zip-lock baggies filled with leftover beef stew and tuna fish crammed into my pack, being squeezed to their limit and bursting open saturating my hiking clothes. Then I smell and look like fishy beef for the rest of the hike. Great.
We reach the ledges, an ascent of 900 feet in .6 miles over open rock up the cliff bands. Although challenging, I have done this before and know I can do it. We have a few tense moments, but that's the thrill of hiking. The incredible views feed me. The dogs do fine, Dejah requiring one push up a steep ledge, but otherwise we are all good to go. I'm taking as many pictures this time as I did the first time. Baldface is an incredibly beautiful mountain to hike. Before we know it we are on the false summit of Baldface, looking up at the true top of South Baldface. I love this part of the mountain. It looks like it should be the peak, with a huge beautiful cairn at the center and plenty of flat rocks to rest, eat and relax on before tackling the last half-mile to the top. We decide this is the place to have lunch.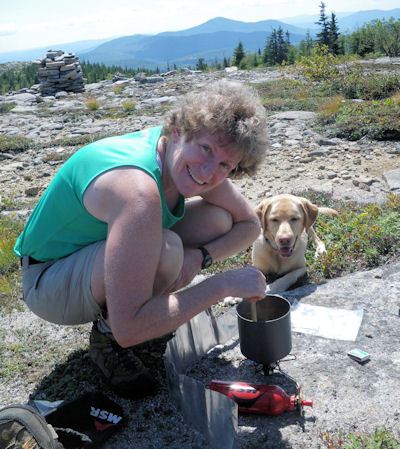 Pat starts unpacking her equipment. As each piece comes out I am gauging the size and the weight, trying to figure out how much room it will take up in our packs and how much it will weigh us down. She is intent on her job and doesn't buy in to my anxiety. She lights the stove and a flame twice the size of the stove jumps to life. In my mind, I go to her kitchen fire. I glace around us. All rock. We are quite safe here. She explains that she is letting the flame burn the extra fuel. She has a little metal piece that forms a mini-wall around the stove to protect it from the wind. I am thinking maybe we could leave that behind. Then the wind blows and Pat adjusts the angle of the barrier, keeping the flame alive. Okay, guess we need that...
She says the stove is ready, yet I no longer see a flame, which I point out to her as gently as possible. She tells me that it is going and we won't see the flame. She mixes the freeze-dried tortilla soup with water and before we know it, it is boiling. Whooo hooooo, I am impressed! The flame goes out once, and I am thinking holy shit, this isn't going to be easy. But Pat calmly gets it going again. The soup is really boiling now. Pat tells me it is hard to regulate the heat of the stove, which makes it difficult to simmer anything. In my mind I am thinking that simmering is not that different from boiling and who really gives a shit. While I am thinking this, Pat tells me that a friend made her a matt to go under the pot that helps temper the heat, making it possible to simmer the food. In my mind I am thinking, great, another thing that has to go in our packs. After 10 minutes of cooking she pours half the soup into my bowl, half into hers. The dogs are drooling. We look into our bowls. Toward the bottom there is an inch of steaming soup. We decide that the pouch is only one serving. Good to know! That is why it is important to practice! I am thinking that had we not realized this we could have gone into the canyon with food for one!
The soup is great, topped with cheese and tortilla chips. It is gone in only moments. Then the clean-up, which goes smoothly. I am hoping this will be my job, and Pat can continue to be the cook since she has practiced.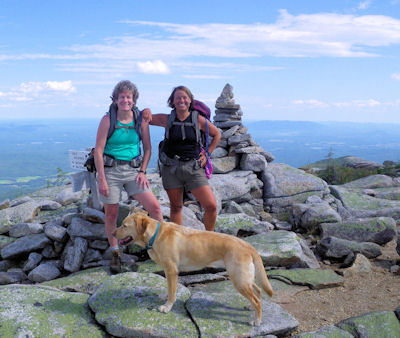 We pack up our packs and head to the top of South Baldface. It is a beautiful climb, lots of large cairns, blueberries and mountain cranberries. We arrive at the top and decide to lie down on the hot rock and enjoy the beautiful sunshine. The dogs are hot and find a shady spot to lie down and rest as well. It feels so good to take my boots off and wiggle my toes in the sun and breeze - one of the true joys of hiking.
We agree that instead of going on to North Baldface we will go back the way we came and take the Baldface Knob Trail over to the Slippery Brook Trail. We have never gone this way and we both want a new experience. We pause on the top of Baldface Knob. I look at Pat as she looks back at the top of Baldface and out at the other mountains that surround us. She is such a good friend. We have been through so much together. I take her picture.
The shrubs and ground cover are starting to show their fall colors and I realize as we head down the mountain that by the time we return from the Canyon it will be autumn. How did summer go so quickly?
****
Pat is coming over to my house on Monday to coordinate our packing for the Canyon. My backpack and suitcase are already full and we have tons of equipment not yet packed. Pat mentioned something about practicing with our packs. I can just see us trying to stuff all this shit in our packs, totally sending me into an anxiety orbit, then walking around my house laden with who-know-how-many-pounds of crap on our backs. As I write this I am sure we should NOT practice. I say, bring all the stuff to the Canyon, pack it all in our packs, then try and get the packs on our backs without breaking them -- our backs that is. If we can't lift them, then we begin to negotiate what to ditch! Should be interesting! Stay tuned!