Isolation - An Attempt
Submitted by Pat

Stats
Mountain: Mt. Isolation
Date: May 13, 2007
Time: 8.25 hours
Weather: Sunny, breezy, temps ranging from 50-65
Miles: 8
Trails: Rocky Branch Trail to Isolation Trail
Holy Shit Factor: High water river crossings, poorly marked trail and snow pack - very high

---
Picture Gallery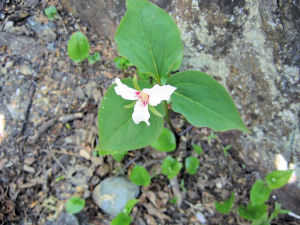 We're lost. Not "lost" lost, but we aren't sure know how to get to where we need to go as we bushwhack through dense forest. We are trying to avoid crossing the Rocky Branch River in high water. If we try to cross, we will get wet, very very wet. Looking at the map, we see that the trail recrosses the river toward the side we are on about 4/10ths of a mile later. We see tracks in the snow where other hikers had bushwhacked to intercept the trail, thus avoiding two of five Rocky Branch River crossings. We follow the tracks through snow pack that only remains in isolated piles. Finally, after 45 minutes of pushing on, we lose the footprints and can't find them again, no matter how far we range. It is 1:20 in the afternoon and we are hungry and tired and frustrated. Nancy and I look at each other and I say, "Well, I guess that's that." It is clearly time to head back and try another day. Yes, I am disappointed. I decide to hike instead of hanging with my mom on Mother's Day, and I dedicated the summit to her. I really don't want to turn around. But we are only 4 miles into a 14.9 mile day and it is already 1:20 p.m. So we bushwhack back toward the river and sit on a rock and eat half of our delicious Mountain Bean sandwiches.
It is hard for me to talk about turning back and why it feels bad. I know it is the right thing to do and know my mom would agree and applaud our decision. I just want to make it, for her, for me, for whomever. This winter we turned around 4 times in our attempts to summit four different 4,000 foot peaks. All our decisions to turn around were for very good reasons. All were smart choices. All of the decisions felt good. But this one doesn't. I think it's because I have dedicated the summit to my mom, and we don't make it. I should have dedicated the hike, the process, the experience, the adventures, and not the goal, to her. That would felt much better. Another lesson learned.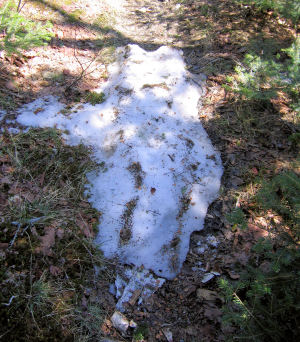 The day starts at 5 a.m. when I pick up Nancy in Keene. After our usual pit stops for breakfast, bathroom breaks, and coffee we start up the Rocky Branch Trail at 9 a.m. We only have four 4,000 footers left in New Hampshire out of the 67 we are attempting. Why Isolation? I'm not ready to go back up a Presidential after last week's Adams summit so Mt. Jefferson is out. We want to do Owls-Head on a dry warm day, no snow pack to contend with, and I think that Cabot will be too muddy, lots of water crossings and more snow. So we decide to give Isolation a try. The trail starts off in full spring splendor. Lime green leaves on the trees, a few Hobble Bushes blooming, lots of Trout Lilies poking up their single leaves, and Trillium, both painted and purple. Song birds are wild with their mating calls - White Throated Sparrows, Chickadees, Winter Wrens, Oven birds. And NO BUGS! I feel strong and happy to be outside, in the White Mountains, hiking with my hiking buddy on Mother's Day.
After an hour of walking on mostly dry trail with moderate elevation gain, we turn toward the left and start down an old logging road. Lots of birch, lots of blowdowns. In fact, we spend a lot of time clearing the trail of what we can without a saw. That eat up time and I am dawdling, taking pictures of a couple of garter snakes and the wild flowers, listening to the birds, clearing the trail. The sun is warm, the breeze intermittent and cool, and I unzip my pants and spend the rest of the day in shorts. Boy, does that feel good. A half an hour later we start to encounter snow pack - depths of 2-4 feet of wet rotten snow. We walk around it when we can and posthol when we can't. Yes, we have snowshoes, but when the snow patch is only ten feet long and then the trail is clear as far as we can see, it doesn't make sense. So we walk around and when we have to walk on the snow try to stay on the center ridge. It's exhausting and startling to continually fall through the snow - bang, down you go, you catch yourself, and then have to haul yourself and your pack up and out and move another step forward.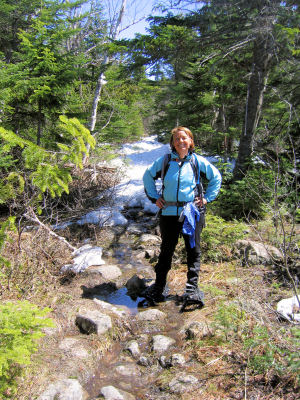 Then the trail turns into a creek and we have to rock hop. Again that's great fun with fresh legs but our legs aren't fresh any longer so it is hard to stay dry, and we really want to stay dry. It is going to be a long day anyway. I want it to be long with dry feet. On we go - this is true wilderness. There is nothing out there - no people and hardly even a trail. Lots of branches growing onto the trail and no blazes at all once we leave the ski area. Sometimes the only way to know we are on the trail is seeing the occasional boot print in the snow. We pass the water area and come across more consistent snow pack and put on our snowshoes. They help a lot, but the snow ends around the next bend in the trail and there is be no snow as far as we can see. Off come the snowshoes. Around the bend, more snow. On come the snowshoes. And on and off and on and off.
By the time we reach the Rocky Branch River, we are tired and hungry and we see no place to cross that doesn't mean getting wet. We see some prints in the snow where a previous hiker has bushwhacked to avoid at least two of the water crossings so we take the bait and follow. Not easy in snowshoes through dense forest without a trail. And we are tired and time is not our friend. So we end where this report starts. Lost but not "lost" lost.
The walk back is a slog - as exhaustion grows we became less agile and our balance suffers. Wet feet result but by that time it doesn't matter. We just want to get out and go home. Snowshoes on, snowshoes off, snowshoes on, snowshoes off. I guess it's funny, although we aren't laughing a lot.
We arrive back at the car at 5:25. It feels soooooooooo good to sit down and stop moving. We have had harder and longer hikes, but still the ones where we have to turn around before reaching the final goal have taught us the greatest lessons. Sometimes these lessons are the most difficult to learn.