It's Not About the Marathon...
Submitted by Nancy
"Perhaps this very instant is your time."

Louise Bogan
"In my open human heart I am feeling and receiving my love. I am sharing my love with you. I am receiving your love."
Marcus Daniels
Picture Gallery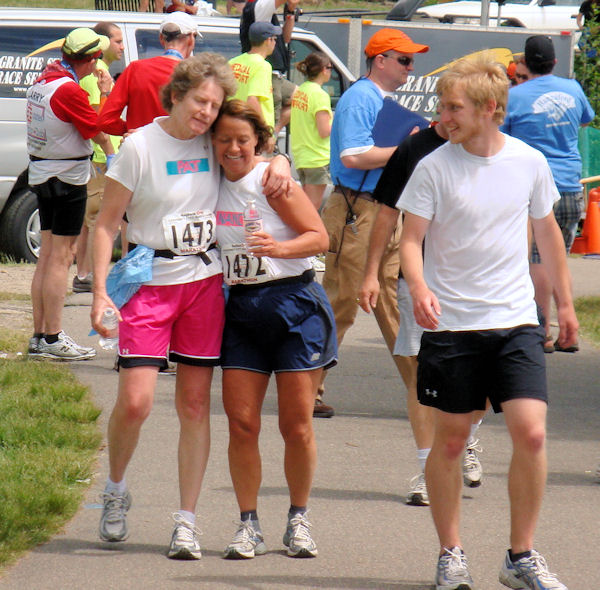 Here's what I thought...
A marathon is about daring to make a commitment to run 26.2 miles and then showing up in the rain, snow and freezing cold to train. It is about dedicating hours and hours a week to running, for 20 weeks straight, to get ready for the race. It is about running almost 500 training miles, pushing past my comfort zone, enduring long runs of 16, 18 and 20 miles. The marathon is about discovering what my body needs -- Gu, Chomps, electrolytes, water, carbs -- and what my body is capable of. It is about sweat and exhaustion and perseverance and resilience. A marathon is about how I mentally and physically respond to hitting the wall, when at mile 21 every muscle in my body says I'm done and the racecourse says there are 5.2 miles to go. It is about crossing the finish line, arms in the air, exhausted from the effort, celebrating that incredible moment.
That's what I thought. But I was wrong.
****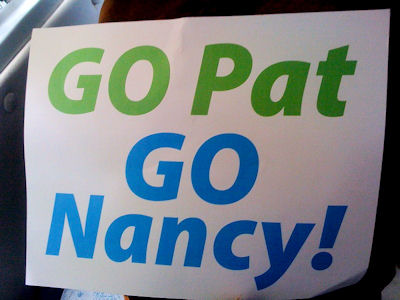 We've picked up our race packets and running bibs, and now we are standing in the Sheraton Amphitheater waiting for the movie, "Spirit of the Marathon" to start. Betsy is waiting too and we strike up a conversation. I like her right away. She tells us she ran the marathon last year and is running a half marathon with her sister-in-law, who joins us and we have a great talk. What I love about Betsy is that she exudes life and is a goal-setter and achiever at heart. The "Spirit of the Marathon" begins and it is a very moving and inspiring documentary of 5 runners and their experiences training and running in the Chicago marathon. "Oh my God - I am going to do that tomorrow," I say to myself as I watch the film. "What am I thinking?" But I know what I am thinking. I know I am supposed to do this.
The next morning, Pat and I are up early, eating our bagels, hoping they have time to digest before we start running. I use the bathroom, probably 5 times (TMI?), put Body Glide all over everywhere to prevent chaffing and then we walk to the starting line. I don't have much time for my nerves to get worked up. Before I know it we are running. And we don't stop for a long, long time.
I am so glad Pat is running by my side. About a month before the race, she came down with shingles and meningitis and ended up in the hospital. We both thought she'd have to forgo the race. But her fight, desire and commitment to the marathon and to me were deep and strong. She never gave up. And here she is, running!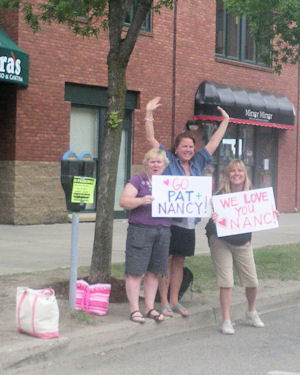 The beginning of the race is exhilarating... thousands of people everywhere cheering and clapping. We are no more than a few minutes into the race and there is Tracey, a loving mentor and friend in both our lives. We jump and scream and wave with excitement, yelling her name as she yells ours. I can see that she is touched by the experience of witnessing our first marathon start. I am still reveling in seeing Tracey when we round a corner and there is Ruth, a dear friend and co-worker, holding a sign, cheering like crazy, taking pictures with her iPhone and camera. Her smile says it all - so proud of you, so exciting, go Nancy and Pat!
We run through Church Street Marketplace, a beautiful open-air mall. People are sitting at outdoor tables under umbrellas enjoying breakfast and clapping and ringing bells for the racers. How cool! All of a sudden I see Molly! Oh my God! Molly! We had no idea she would be here. She is a runner herself and we have passed her many times on our training runs. She is always so full of enthusiasm for us. I always feel lucky to have run into her. And here she is waving a sign for us! What a surprise! It is an incredible feeling to realize that you matter to someone enough for her to drive all the way to Burlington and to stand along a street for hours just to catch a glimpse of you running by!
The crowds is full of generous spirits. And even though there are 8,000 racers, it feels like the spectators are cheering for me and Pat. It's personal because we did something smart. We put our names on our shirts. The day before the race we went to Michaels looking for colored tape. Low and behold there was a bin of every color duct tape you can imagine. Back in the hotel, we put our names on our shirts. Our first attempt looked stupid so we took the tape off. But I couldn't let it go - it felt like something I was supposed to do. So I tried again. And this time they looked pretty good. I am so glad we did it. All along the way we had people yelling "Go Nancy, Go Pat" over and over again. It is as if we had hundreds of friends, lined up mile after mile. The thing is, these people aren't just saying our names, they are really cheering for us. They can see our effort, they appreciate it, and they want to share in our experience. And each time I hear my name I wave back or say thank you or smile in their direction. And I can see that matters to those on the sidelines. It is like we complete a loop. They say, "Wow look what you are doing! You go girls!" and we say, "You make it easier, thank you."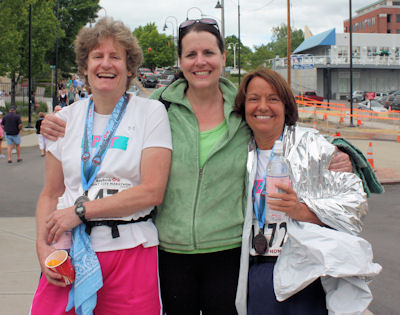 A few more miles and we see Anne, my sister. "Anne" I yell as I jump in the air. How can you conserve energy when you see someone you love? Anne yells to us that we're looking good and that Sam is up ahead and hopes to run with us. Ten minutes later - there he is. Sam, my 20-year-old nephew, runs out of nowhere and is by our sides, full of pep and smiles and encouragement. How can you not love this sweet man with a gorgeous grin? He runs with us for 5-6 miles, encouraging us and sharing the whole way. Soon after Sam joins us, we hear our names and look over to see Eileen, a woman who came to our very first It's Not About the Hike presentation. She has never missed an opportunity to tell us that our presentation changed her life. And here she is, at the marathon, changing ours.
We leave the center of Burlington and head out Pine Street and then around to the beautiful bike path along the lake. As we come back into Burlington, running along Battery Street, we see Anne and two dear friends, Marty and Kate, holding signs and cheering for all they are worth. And there is my husband Don, with a bandana on his head, waiting to run with us. My heart just soars at the sight of my friends and my husband. They are so full of love and I let it in. It settles in easily into this vibrant, full, comfortable place inside me. I don't cry, I am elated. I don't cave in on myself and wonder why they have come or worry that I will let them down. I just run with their love in me.
Don had chosen Burlington's version of Heartbreak Hill to begin his run with us...and the Taiko drummers perfect beat help us up the steep incline. I reach out and hold his hand for a second as we run. All of a sudden I notice a woman running along side of us. It is Betsy who we met at the Spirit of the Marathon movie! She had finished her leg of the race and wants to cheer us up the hill. I knew I loved her! And there is Molly again waving her sign and Ruth smiling with pride as she watches us run by. Wow...so loved. And it all goes in. It seems totally impossible that I have a container in me so big it can hold all the love that is coming at me. It makes me feel like I am soaring.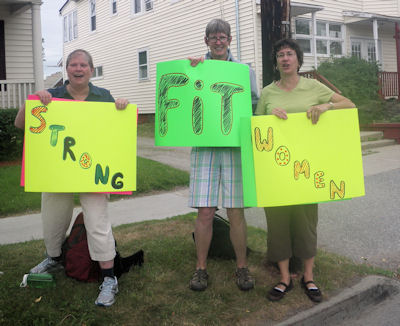 I think that running a marathon, like climbing a mountain, requires everything you have in you...so you don't have anything left to build walls, or to hold back emotion or to build a barrier to protect yourself against anything that wants to come in. All my energy is going to running and the love that is free flowing all around me just soaks in, as if I am a dry sponge.
We are on mile 16 and I hear crazy screaming. I look up and there are three women from the MoCo Wellness exercise class I teach holding up signs that say STRONG FIT WOMEN. Are you kidding? Pat and I jump up and down, my eyes popping out of my head while I scream. Carol, Peg and Mary Ellen are screaming as loud as we are and look like they are having a blast. Wow...what a gift to see them.
Don stays with us, running past his usual three-mile limit, and I love him for that. I love that he wants to be a part of this experience with me. We run through a neighborhood and a little girl and boy are handing out popsicles, the kind in a plastic sleeve and you push it up as you eat it. I get a red one and I am telling you…the feeling of that icy cold sweet punch in my mouth is literally the best thing I could have imagined. Even once it is gone, I keep trying to hold that feeling of the freezing cold in my mouth and the sensation of it sliding down inside me. I wish I could thank her and tell her how much her gift helped my spirits.
Don takes a break, heading towards the bike path, where he will pick us up again at mile 23. We keep running, through neighborhoods filled with people cheering. One woman in a lawn chair holds a sign that says, "We can't all be heroes, someone has to cheer on the sidelines!" We see another sign that says, "Look around - 99% of us can't do what you're doing." And another, "You are no longer a runner, you are a marathoner." We pass a woman holding a "Hug Station" sign and I stop for a hug -- brave woman hugging my sweaty body!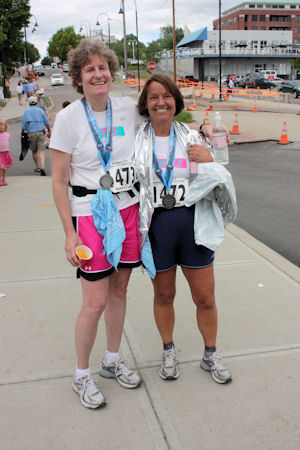 We hit mile 21 and I start to walk. Every part of my body hurts. Every muscle is telling me it is done. Just as I am fading, here comes Don! He's back running next to us, giving us energy. Every time we pass a spectator he tells them it is our first marathon. And they whooo hooooo and yell "Yay! Go Nancy and Pat!" What a gift to have our own cheerleader, running along side of us, rousing the crowds.
We keep leap-frogging with another runner and as she passes us she says, "One and DONE". We laugh. When we pass her a few minutes later we remind her. "One and done!"
Then we see Ruth walking down the bike path towards us on her brand new knee, cheering and smiling! Oh my God…that she would walk two miles to meet us so soon after having a knee replacement...so much love and support. How lucky am I? The last mile Sam pops out to run with us across the finish line. And there is Molly again, with her sign, cheering, smiling, encouraging. And there is Kate and Marty and Anne and Eileen. So much love.
As we cross the finish line the announcer says, "Nancy Sporborg from Keene, NH, and Pat Piper from Jaffrey, NH." My arms in the air, smile on my face...and here is the most important part...love overflowing in my heart.
I have never felt so loved as I did running the Burlington Marathon. And here's the thing, I felt it from my family and friends and I felt it from the crowd. I felt it from the bands, the bagpiper and the drummers. And I felt it from the kids holding out their hands for high 5's and from the volunteers handing out Vaseline and orange slices and from the crowd, yelling "Go Pat, Go Nancy!" I felt love coming at me from all directions - right into my core. And I let it all in. I was elated and thrilled and touched to the deepest place in me. Here's the part that surprises me. I could see in the faces of the crowd, that they could feel the love too.
You know. Some people go through a crisis and find out how much they are loved. Others never find out. And still others choose to never let it in. I am lucky. I got to experience how much I am loved over 26.2 beautiful miles in Burlington, VT, on a perfect running day, with thousands of people cheering us on for 5 hours and 50 minutes. The Burlington Marathon was an experience of a lifetime.
Here's what I thought. I thought I was supposed to run my first marathon to realize I could do something I never dreamed possible. But I was wrong. That wasn't it at all. I was supposed to run this marathon so I could know and feel how much I am loved.