Winter in the Grand Canyon - January 2013
Submitted by Pat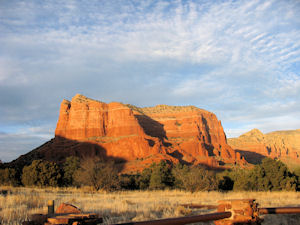 This trip to the Canyon spent a long time in the planning stages, first cancelled in 2012, then rescheduled for 2013. This was to be a healing trip - Nancy and my last trip to the Canyon in 2010 was especially stressful and we both returned home stricken and angry, with lots of pain lingering in the corners of our hearts. In 2011 Nancy rafted down the Canyon on her own, needing time to experience for the first time what it was like to go somewhere and do something without having to take care of anyone but herself. In 2012 neither of us visited the Canyon so this 2013 trip in winter was especially welcomed. I had started a new job in November, and despite knowing we would be leaving at the end of January, I was focused on learning my job responsibilities and less so on looking forward to our Canyon trip. In my heart I was going as much for myself as to do what I could to heal any lingering anger between Nancy and me.
For weeks before we left on our trip to the Grand Canyon, I hardly thought about it, didn't plan what to pack or research places to go and things to see. I stayed very present in my day to day work, my home, the goats and horse, the dogs and cats, the ducks and chickens, connecting with a new friend, and reconnecting with an old one. So when the time came I was not prepared and it took a lot of energy to pack and unpack and repack and unpack and repack again, before finally zipping the suitcase shut for the last time. Talking to Nancy on the phone the night before we left she told me she had packed and unpacked and repacked her bag 3 times. Enough was enough. I guess that was the fun of it because we laughed and enjoyed our shared experience. I definitely packed light, maybe too light. I had enough hiking clothes and gear, but not enough going out to dinner and being a tourist clothes.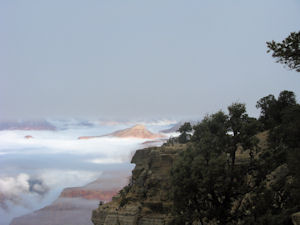 The alarm woke me at 3:45 a.m. after a restless night. The dogs didn't even move as I dressed and hurried downstairs to make coffee and load the car. In the early morning dark I drove to pick up Nancy at our appointed 4:30 time and together we began the drive to Bradley International Airport in Hartford. I was in some discomfort from a stiff neck that I woke up with. Nothing seemed to ease the pain and looking over my shoulder when I changed lanes on the highway was not pleasant. Took ibuprofen and ignored it for now.
We arrived, parked the car at LAZFly, took the shuttle to the airport, checked our bags (Nancy's was a pound and a half over the 50-lb limit and mine only weighed 39 lbs so we put some of her stuff in my bag), went through security, ate some breakfast and waited for the flight to be called. The flight to Charlotte, NC was uneventful. I slept and read. The leg from Charlotte to Phoenix was long and my stiff neck became even stiffer just sitting there with little room to move or stretch. I read while Nancy talked with a retired LA policeman. Turned out he was one of the people who created the D.A.R.E. program. He was a really nice guy and interesting to listen to.
We played word games on my iPad, read some more, slept and waited until we finally flew over the desert and landed at Sky Harbor International Airport in Phoenix, Arizona. It looked so different from New England. All grey and brown and red and dusty looking. Temps were in the 60's when we got off the plane. We picked up our rental car, a cheery red RAV 4 and headed north on I 17. Nice to have the window open, but my body was freaking out from all the temperature shifts, clothes on, clothes off, sweating, not sweating, back and forth, maybe a little menopausal flashing thrown in. This pattern of hot and cold would continue to play out for the rest of the trip.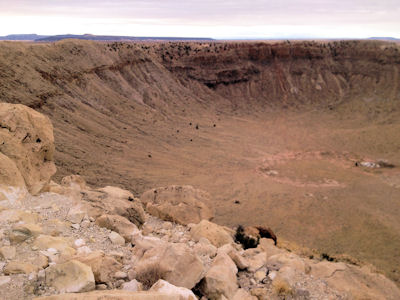 Straight up Rte. 17 we drove. The weather was clear and warm, wispy with clouds. In no time we were away from Phoenix and in the northern suburbs. We pulled over onto the Carefree Highway (remember that Gordon Lightfoot song?) and stopped at a convenience store for a cold drink. I was driving our rental car, and being a RAV there was no getting used to it. I just got in and drove. Up through Saguaro cactus country, over one mountain range, then flat empty desert and over another mountain range to a flat desert mesa. We took the Sedona exit on Rte. 179 and traveled the scenic route to enter Sedona from the south. As we got closer, the drive consisted of a series of roundabouts every mile or so. At the 8th roundabout we saw our hotel - The King's Ransom - and checked in. The room was to write home about, but the place looked good on the web.
On our way downtown to find a restaurant, we stopped twice and took pictures of the red rock buttes that surround Sedona. The evening light was perfect and we were happy and excited about seeing this incredible beauty and being in the west again. We parked downtown and looked for a restaurant. We were both hankering for Mexican food and we found one almost immediately. It was called Taos Cantina. Service was ok, food ok and a lot of it, and by the end of the meal I was starting to feel the need for sleep. We drove back to the hotel and I immediately got into my jams. I was asleep shortly thereafter. Nancy swears it was only 7 o'clock when she turned the light out. I swear it was 9 o'clock and from there we agree to disagree.
Our "free" continental breakfast the next morning was a disappointment, but I ate a couple of waffles and Nancy ate some yogurt before we headed out to find a Starbucks where she bought her beloved Chai Latte and me my regular latte. Yum, coffee with a pulse. We weren't sure what to do next and ended up haphazardly looking for a masseuse who could work on my neck. The first place we went that advertized psychic readings and massage was closed. Nancy wanted a psychic reading. I've never been tempted, but could see that she really wanted the experience so I encouraged her to make it happen. We landed at a tourist information place where a really nice guy suggested a psychic for Nancy and a spa for me. He even called and made an appointment for me for 10 am at the Sedona New Day Spa.
We drove to the spa and went in to the lobby to check in. The receptionist greeted us warmly and showed us the waiting room complete with comfortable furniture, soft music, water with lemon slices and another with cucumber slices in it. All sorts of biscotti, nuts and dried fruits presented beautifully were laid out for the spa customer. She showed us the changing area and the steam bath. Nancy decided to go for a walk, see if she could find that psychic, while I surprised myself, stripped off my clothes, and with a bathrobe in hand, stepped into the steam bath. Hot steam massaged my tight muscles. The sweat had just started to roll when the masseuse came by looking for me. Quickly I put on my robe and joined her. She led me to a softly lit room and asked me to sit. New age music played through hidden speakers. She asked me what massage oil scent I preferred. I smelled the first one, nice but too flowery, but the next was perfect - desert dry and lavender sweet . I started face down and my massage person, Kaitya, began her head/neck massage protocol. Her ministrations felt great and she said I was very tight. It helped dull some of the sharper pain and I felt better when Nancy rejoined me and we headed to downtown Sedona to find a sandwich place that was recommended to her called Sedona Memories.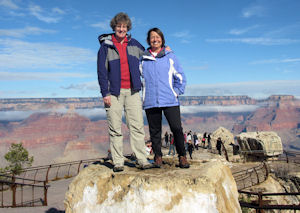 It turned out to be a small cafe on Jordan Road, next to a beauty parlor/spa and the Pink Jeep Tour place. We ordered a couple of sandwiches and walked around town for a while. Nancy saw a pottery plate of deep brown red that she fell in love with and bought it, made arrangements for it to be shipped to her home in NH. I enjoy being around spontaneity like that. I'm not usually that free...
We picked up our sandwiches - huge 4" inch high sandwiches filled with all sorts of good tastes - and headed up Rte 89 which met up with I 17 and then I 40. We headed east on I 40 toward Winslow, AZ - standing on a corner in Winslow, Arizona, such a fine sight to see, It's a girl, my lord, in a flatbed Ford, strolling down to take a look at me (~Jackson Browne). Nancy wanted to see the meteor crater, the largest and best preserved meteor crater in the world, so we drove out to the middle of nowhere until we found it. Privately owned, it cost $16 each to get in to the building that housed restrooms, a snack bar, a couple of gift stores, a museum and a movie theater. We watched the movie and walked out disappointed. We both wanted more. As we left the theater we were met by a man who turned out to be a tour guide who was drumming up business for the next tour. He was humorous and personable and though I didn't quite have enough warm clothes on I figured I'd be ok so we went on the one hour tour. This was the only way to really walk along the rim and see the crater. Meteor Crater is nearly one mile across, 2.4 miles in circumference and more than 550 feet deep.
A little history:
Approximately 50,000 years ago, on a continuous plain extending for miles in the high desert plateau of Northern Arizona, out of the northeastern sky, a pinpoint of light grew rapidly into a brilliant fireball. This body was probably broken off from an asteroid during an ancient collision in the main asteroid belt (between the planets, Mars and Jupiter) some half billion years ago. Hurtling about 26,000 miles per hour, it was on a rendezvous course with earth. In seconds, it passed through the earth's atmosphere with little loss of velocity or mass.

In a blinding flash, a huge iron-nickel meteorite or dense cluster of meteorites, estimated to have been about 150 feet across and weighing several hundred thousand tons, struck the rocky plain with an explosive force greater than twenty million tons of TNT. Traveling at supersonic speed, this impact generated immensely powerful shock waves in the meteorite, the rock and the surrounding atmosphere.

In the air, shock waves swept across the level plain devastating all in the meteor's path for a radius of several miles. In the ground, as the meteorite penetrated the rocky plain, pressures rose to over twenty million pounds per square inch, and both iron and rock experienced limited vaporization and extensive melting. Beyond the affected region, an enormous volume of rock underwent complete fragmentation and ejection.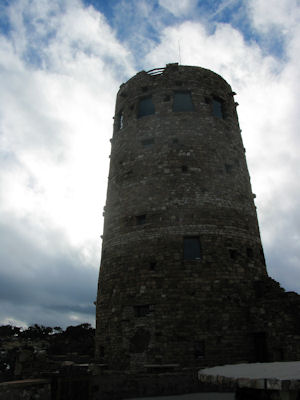 Our guide, whose name was Eduardo, actually lived and worked right there at the crater. Many employees had apartments adjacent to the visitor center. Eduardo was a sweet man, self-deprecating, and knew his stuff. As we walked along the rim he talked about the crater, its history. He talked about the desert flora and fauna and took each person's picture overlooking the crater before turning us back. He actually learned every one of our names, all 8 of us, which added to his tour guide mystique. When we returned to the car, we were cold and hungry and it was 2 o'clock in the afternoon so we pulled out our sandwiches and ate. Huge, delicious sandwiches. I could only eat half of mine. I decided to save the other half for later.
Back on I 40 I decided that since the temperature was falling and it had started to rain that we would head west on I 40 and then turn right on I 64 toward Canyon Village and the south rim, rather than go the scenic route up Rt. 89 and over on Rt. 64. The drive was relatively stressful because of all the big trucks and the rain, but became easier as we headed up Rt. 64 and reached the National Park entrance, paid our fee and headed to the Bright Angel Lodge to check in. The Canyon was awash in cloud and fog. We could hardly see each other, let alone any of the Canyon. Our little room in the Buckey Lodge had a double and a single bed, and our own bathroom, complete with a claw footed old-style tub.
On our way to dinner, we spotted a couple of hikers, a young man and woman, who had just come up the Bright Angel trail and were exhausted. We asked them about conditions on the trail and on the bottom and then offered them a ride to their car which was parked at the Visitors Center. We piled in the RAV and made our way to the Visitor's Center. Very hard to see in the fog and roads were poorly marked, but we finally got there. Hiker magic.
When we returned to the lodge we ate dinner - Nancy had a salad and I had corn chowder and a salad - at the Bright Angel Cafe before heading back to our room. We got into our jams around 9 o'clock and talked. Nancy had downloaded a new white noise app on her iPhone and we chose "CITY" as our night time background noise. Talking with Nancy didn't last long. In the lull of a silent moment she was gone, breathing deeply, sound asleep. I lay awake for a long time, unable to find the door to sleep. I'm sure I did sleep, but it felt like I awoke every hour, listening to the loop of the city noises play through my head.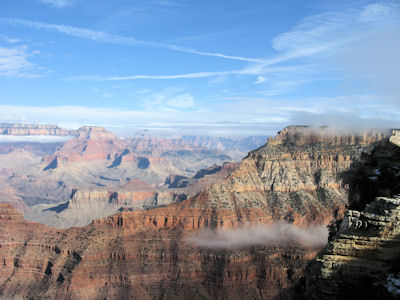 The next morning we were up by 7 and off to breakfast at the Bright Angel Cafe where we were waited on by Errol, a man from Jamaica. The employees of the Xanterra group that runs the hotels and concessions on the Canyon rim have name tags with their first name and their state or country on them. Kind of fun to see where folks are from. Errol spoke with a slow, low, lilting voice and was very attentive to our every need. He was sweet although maybe a bit over the top with his obsequiousness. After breakfast we walked to the Canyon rim and saw...nothing. Fog and clouds and cold. No rain. We got into the car and started driving and saw that the rim road out to Hermit's Rest, which is closed to cars during the summer season, was open so we headed down. Almost immediately we saw two large animals appear from the fog along the road. A couple of elk, female, a big one and a little one, with their funky buff colored rear ends. They moved off the road to browse with the rest of their herd and we drove on.
We stopped once but there was no view so we kept on driving. We stopped again at Mohave Point and holy moly we finally saw a couple of peaks of sun shining through the multiple layers of clouds. The high clouds were dissipating and the banks of clouds inside the maw of the Canyon were breaking up, moving and changing, showing us incredible glimpses of the walls and gorges, isolated temples of limestone cliffs, even a glimpse of the river. Stunning, beautiful, tantalizing, and the sun just kept on coming despite the forecast for more showers.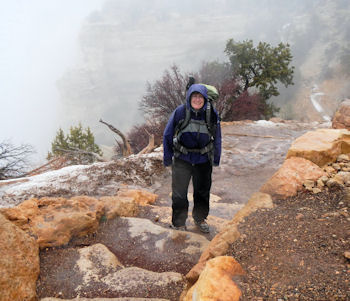 We drove all the way out to Hermit's Rest, turned around, and headed back to the Village. We spent some time ogling the Native American jewelry in the Hopi House, designed by Mary Colter and built in 1905. An amazing building full of nooks and crannies, soothing native flute music, and smells, lots of unique, delicious, and unrecognizable smells. Next we walked up to Verkamps Visitor Center where Nancy spoke with a ranger about trail conditions and weather and I looked at old pictures and browsed through books.
Back in the car we decided we had just enough time to drive out to Desert View and be back for our 6pm dinner reservation at the El Tovar. We saw a lot of old, rotten snow from the last storm. It was melting with the warmer temperatures we had encountered when we arrived. The Desert View watchtower, a 70-foot tall building designed by Mary Colter and built in 1935, stands at the east end of the Canyon over 20 miles from the South Rim Village. We checked out the General Store, the Snack Bar and Gift shop and did a tour to the top of the tower itself, walking on skinny narrow staircases surrounded by cold unheated stone and incredible views. The observation deck was open, which we had never seen, so we stepped out and found these wooden boxes built into the ramparts and when I looked over the edge into them I could see a clear reflection of the canyon displayed back to be from the black mirror installed in them, albeit the image was upside down.
Regretfully we started back to the Village. We made it in time for both of us to take showers. I went to the lobby where I could get Wi-Fi connectivity on my iPad while Nancy showered. When I came back to the room she met me with doleful eyes, saying she had bad news about the shower. All she could get was a trickle of water for her shower and ended up on her hands and knees to rinse her hair under the tub faucet. I was surprised but headed in without much concern. The image of Nancy on her hands and knees rinsing her hair cracked me up. When I got in I adjusted the water temperature with the tub faucet on. When the temp was right, I turned off the tub and turned on the shower and voila a great shower for me. But every so often I laughed out loud at the image of Nancy on her hands and knees rinsing her hair under the tub faucet. We got a lot of mileage out of that one.
Dinner was delicious onion soup with melted Swiss cheese covering it and a salad. Perfect! No desert...hadn't done anything to earn it. Back in our room, we settled down and packed for tomorrow's hike down to Phantom Ranch. When we were ready, we set Nancy's iPhone for 6 a.m. and went to sleep to CITY background white noise.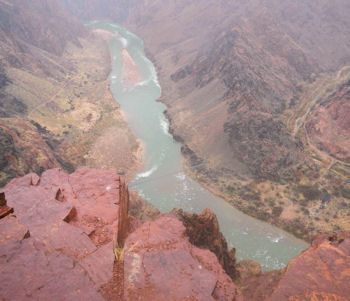 It felt like I hardly slept at all, but I must have because the alarm woke me up. It was so nice and warm in my bed and outside it was grey and dripping, threatening rain. But we got up, stored our luggage in the bellman's closet, ate breakfast, checked out and shouldered our heavy backpacks as we walked down to catch the 8 o'clock hiker's express shuttle to the South Kaibab trailhead. We met a young couple who said they were walking down the South Kaibab trail to the Tonto Trail, across, and up Bright Angel Trail. They had water and little else. The guy had on jeans and they both had on light shoes. Almost as soon as we got on the bus it started to rain. Our young companions headed straight for the shelter of the restrooms and we never saw them again. If they were smart they would have headed back to the village for a hot drink and a fire. Nancy and I looked at each other and shrugged. No help for it. When we arrived at the trailhead it was windy and cold and pelting us wih rain. We immediately had to take out and put on rain gear - parkas and rain pants as well as our microspikes. The trail was slushy ice and mud as we started out, smiling and game, but not without a little anxiety. What if it rained all day?
At an elevation of 7,260 feet, we started down the South Kaibab Trail at 8:38 am, unarguably the most beautiful corridor trail in the Canyon. Down and down the red rock switchbacks, then onto a short span of longer switchbacks that went along the canyon wall eventually dropping us onto a ridge. Our first landmark Ooh Ahh Point came at .9 miles. Would have been a nice view in pleasant weather. Not much to see today but fog and clouds and rain. Nancy took pictures with her waterproof camera. I kept mine in its plastic bag the whole day.
I was feeling good, outside of the rain; my feet were still semi-dry, my legs felt strong and I was in a solid, happy emotional place. Talking with Nancy was hard because we both had our hoods up and we couldn't hear each other unless we were standing face to face. So it was a quiet first hour or two. At 1.5 miles we hit Cedar Ridge and made use of the compost toilets to pee and get out of the rain for a few minutes. We were both a little chilled but climbing down was building up enough heat to keep us relatively warm. Soon afterward I started to feel some pain on the outside of my right knee. I think it was from walking on slanted ground trying to keep my feet dry and out of the bigger puddles. The pain came and went at first and I was able to let it go and press on.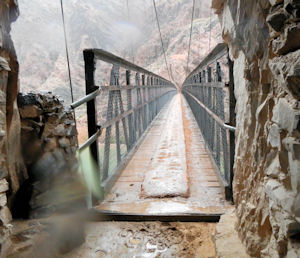 Around 10:30, we met the first of several hikers who were climbing out from Phantom Ranch. This couple must have been in their late 60's, early 70's, and were making great time. They had left after the 5 am breakfast and were almost to Cedar Ridge. Very impressive. They stopped and talked for a few minutes before moving on. It was fun to meet them. The next couple we met, an older gentleman and lady companion, we met maybe a half hour later. He was something, upbeat, full of joy, and as we parted he said something like We are right where we're supposed to be. We are blessed. Tears slid into Nancy's eyes and we walked on feeling on top of the world, despite the wet that was seeping through the water resistance of our parkas to chill our skin. I thought my jacket was waterproof. It's not.
As we descended we met a couple of other people coming up, part of a large group that schedules an activity every winter. I was impressed. Some members of the group didn't look particularly fit, but they were slogging up and were going to make it. The ridge walk between Cedar Ridge and Skeleton Point at 3 miles is exposed and astoundingly beautiful, the easiest part of the trail and we enjoyed it while we could. The red puddles in the trail were deeper and bigger and pushed us off the trail at times. I was losing the battle to keep my feet dry and the pain in my knee was getting worse. It was hard to ignore it and I finally told Nancy I was hurting. I took some ibuprofen and tried to keep my feet flat by walking right through the main part of the river of water pouring down the trail. Maybe the pain would stop or lessen if I walked on flatter ground.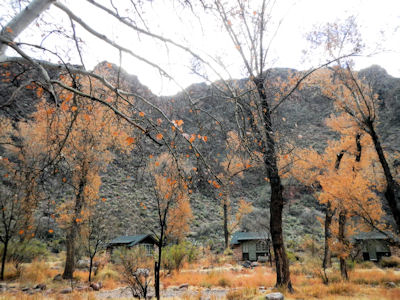 Past Skeleton Point is a wicked steep section of switchbacks, great views to the east, which we couldn't see because we were mostly trudging with our heads down, drawn into our hoods, silent, each of us alone with our thoughts and feelings. We finally reached the Tonto Plateau and the last outhouse on the trail. We took advantage of the toilets and pulled our clothes back together. Both of us were soaked through, hands, feet, heads, legs, body drenched. From this point, called the Tip Off, the trail drops over 1,000 feet in 2.6 miles in a series of steep, precarious switchbacks. Usually it's my favorite part of the trail. I love seeing the river and heading into the inner gorge, but on this day I was hurting. I had passed the point of being able to ignore the pain in my knee and began limping, trying to find a way to walk where it didn't hurt, and failing. So for me the last couple of miles were tough. Panorama Point, Nancy's favorite spot, didn't even look like Panorama Point - it looked shorter, stubbier, like the tip had fallen off. We didn't stay long. We were too wet and miserable, but we managed to revive enough to find the wonder in that awesome view. It was still raining but we were finally below the clouds. The river was a brownish green color and all the buildings at Phantom Ranch were clearly seen through leafless trees.
Nancy was sorry that I was in pain, generous with her compassion, and stayed centered in herself. No reason to let her experience be undermined by mine. I was feeling pretty anxious as we arrived at the Black Bridge. I was future-thinking about my knee - would it be ok by tomorrow, would I make it out, would the pain be as bad going up? Not much I could do right then so I tried to push it out of my mind and enjoy the walk to Phantom Ranch. We passed some Mule Deer grazing along the path. They were tame and unafraid, and we did not approach or feed them. When we arrived at the Canteen we were greeted by one of the staff people who opened the door for us and immediately poured us a hot chocolate while we checked in.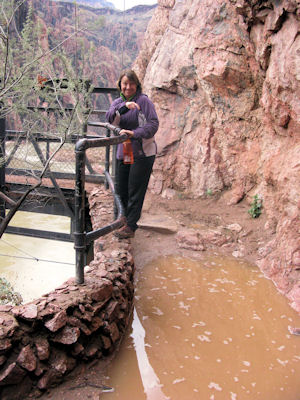 Nancy and I had reserved bunks in one of the women's dorms - a small cabin with five sets of bunk beds sleeping 10 people, with a sink, a shower, and a toilet. We were the first to arrive and the reservation book said there were three more women coming. After checking in, we made it known that we would love to upgrade to a cabin if one came empty. Our names were taken and put on a list, but for tonight it was the dorm. We were able to wrangle a couple of ponchos from the canteen staff, since our rain gear was soaked, and some twine to use as a clothesline. Everyone was so nice and helpful.
We chose the bunks furthest from the door and closest to the toilet. We took off our sodden clothing and hung it on our makeshift clothesline to dry. We only had the shoes we were wearing so they stayed on. Dry clothes felt great and we put on our ponchos and sloshed back through the rain to the canteen that would remain open for another hour or so. We set ourselves up with another hot drink in a corner of the room and noticed that they had replaced the dining chairs. The old ones were made of some kind of caning, wide, almost like cat gut, and drooped in the middle so the sides of your butt were cut by the inside edge of the chair and made for very uncomfortable seating. I was happy to see a solid chair when I eased my sore body onto it. Except for my knee, which felt fine when I wasn't using it, I felt pretty good, tired but not yet sore. I knew that would come later.
We played rummy and talked until they kicked us out to prepare for dinner. We walked back to the dorm and met our roommates, a woman in her late 30s or early 40s who was part of a group bringing 11 young girls down to Phantom Ranch and hiking out tomorrow. The other two were young women, friends, who were also hiking out the next day. We were the only ones staying two nights. Dinner for us was at 5pm. We got there exactly at 5pm and everyone was already seated and digging in family style. We had steaks, baked potatoes, peas, corn, cornbread, and salad. And for desert, cold chocolate cake. A tasty repast after a long day. The cake looked delicious but tasted boring. I ate mine anyway and Nancy abstained. Back in the dorm, we lay on her bunk, heads at opposite ends of the bed, legs at opposite ends, and talked. It was an interesting conversation and of course I have forgotten it completely. We talked for a couple of hours when our bunkmates came in and everyone settled into reading or writing or talking softly.
When the lights went out it was a long time before I fell asleep. Nancy was gone well before I was. I just couldn't shut down despite how tired I was. Strange surroundings, uncomfortable pillow, and a warm room made for difficult sleeping. But I know I slept because the 5 am wake up knock woke me. So nice though to lie in bed until 6:50 when the breakfast gong rang, summoning us to the canteen for the late breakfast. Breakfasts at Phantom Ranch are always the same - scrambled eggs, bacon, pancakes, juice and coffee. The coffee tasted terrible, and I drank it anyway. We were told that our request to upgrade to a cabin had been granted and to bring our stuff to the canteen until it was to be ready around noon.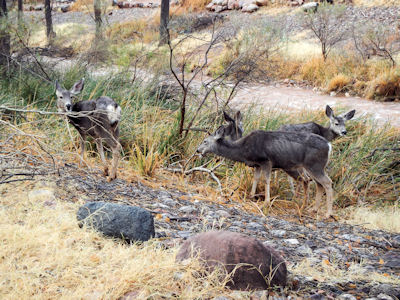 My knee was better, although I could feel it whenever I stepped down. My calves and quads were majorly sore and stiff, but it felt better to get up and move. Once I was moving I was ok, but getting up and starting to move was painful. We decided to do the river walk after breakfast so we grabbed cameras and water and began walking toward the river. Nancy tried to call Don (her husband) on the pay phone located near the rest room down by the river, but the receiver was broken in half and held together by wires. She heard a dial tone, which was more than she had heard at the pay phone at the Ranch, but when Don answered, she could hear him but he couldn't hear her. Very frustrating for them, but he got it, said if this is Nancy I know you're trying to get in touch and you're ok. That helped brighten Nancy's sad mood.
We started off on the Bright Angel Trail and went over the silver bridge. The silver bridge was built in the 60's for hikers to access the Bright Angel Trail. It also became the bearer of water as the transcanyon water pipeline hangs below the metal walkway. Water from Roaring Springs travels via a pipeline down to Phantom Ranch and all the way up to the tourist area on the south rim. Water is an extremely precious commodity.
The trail turned left at the end of the bridge and started to climb. I barely felt my knee going up but going down was another matter and my pace slowed way down. But we were moving slowly anyway, taking pictures and looking at the river now flowing brown caused by runoff from yesterday's rain. We stopped at the beach where the raft trips stop for water. Some trips actually start and end there for some people. We sat for a while and watched the river flow.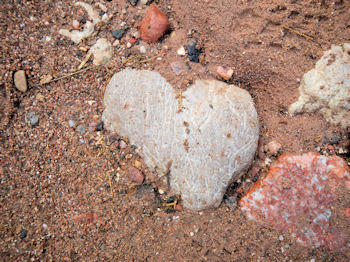 On the walk back to the Ranch we met a couple of young men wearing waders and carrying buckets and other equipment and we asked what they were doing and one responded with glee, "We're going to check the weir!" The what? The weir? They invited us to come with them so we did. The Bright Angel Creek was flowing fast and hard from the rains and they were checking the fish weir that they were responsible for managing. Turns out the brown and rainbow trout that are prevalent in the Colorado River are spawning up creeks and they are very aggressive, nasty fish. The trout has all but extinguished the Humpback Chub. I didn't know trout were such predators, but they are. They will even eat each other. Anyway, these two young scientists were clearing debris from around the weir, seeing if any trout had been caught and seeing if the water pressure was low enough to stand the weir back upright after fast water forced them to lay it down yesterday. The purpose of the weir was to catch trout and /or keep trout from swimming up creek and spawning. They said the Chub are slowly starting to come back, but it was going to be a long fight. They were young, handsome young men, enthusiastic, well spoken and kept us entertained for the half hour we spent with them.
Back at the Ranch we moved our stuff into cabin 4 - two sets of bunk beds and a little tiny room with a toilet in it. Only problem was the water pipeline up at Cottonwood Campground had broken, shifting earth under the pipe from all the rain and the pipe burst. No showers for anyone and we had to use water buckets full of creek water to flush the toilet. Potable drinking water for hikers was available from their cistern. Not much of an imposition. I've been without a shower before.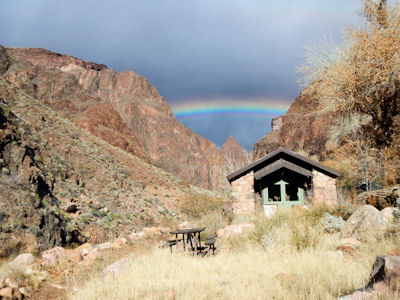 After we moved in we walked up the North Kaibab Trail and then up the Clear Creek Trail. What a great trail! We had incredible views, in and out of sun, with occasional spates of rain. I was tired and my legs hurt but I felt no knee pain going up. That gave me hope for tomorrow's climb out of the Canyon. It was a beautiful walk. I so badly wanted to get up to the plateau but knew I didn't have the legs for that so we turned around after 2 miles or so and headed back to Phantom Ranch. There we bought a lemmy - fresh, cold, delicious lemonade. With our lemmy's in hand and some raisins for a snack we walked out by Bright Angel Creek and sat on a bench to watch the afternoon unfold. We heard a Canyon Wren call - I wondered if they were migratory birds. Apparently not. I love their sound.
Several men on the 25th year of their annual fishing trip stopped by to talk and offer freshly filleted trout, but we declined. Then suddenly the sky to the north darkened and the sun came out above us and it started to rain. The result was two incredible rainbows spanning the Canyon behind us. Nancy took pictures and so did one of the fishermen. Other members of the group came and went, looking at the rainbow. Word got around and people came from everywhere. One rainbow was a double and it even had two ribs of purple. I don't think I had ever seen a purple band in a rainbow. Nancy had predicted it and they were magnificent.
To kill some time, we walked down to check the weir. I got halfway there when I realized that I had to use the toilet, immediately, so I told Nancy to wait for me and headed back. Oh my god, I almost didn't make it. Close call. But I did make it. Then came the flushing part. I pushed down the handle and nothing happened. Oh holy shit, the toilet's backed up or broken and it's my poop that caused it. I walked back to find Nancy and we went on to talk to the guys at the weir for a while. Such nice guys. Then we walked back and I told Nancy what had happened to the toilet and that I had to figure out how to deal with it. As we neared the Canteen I saw a woman leave a full bucket of water in the women's restroom and called out to her. I asked her how the flushing worked and she explained that gravity or something made the toilets flush but not until you poured a couple of gallons of water in them first. Oh, thank god. It was something we could deal with. My anxiety level over having to call a maintenance man to deal with my mess evaporated as we walked back. I filled the toilet with a big bucket of water and part of it flushed. I refilled the bucket and repeated and this time most of it flushed. Back for another refill - this time the mess disappeared. Man, it's the little things. I'm so glad I asked that woman rather than approaching a staff person who I feared would have to come to our cabin to take a look.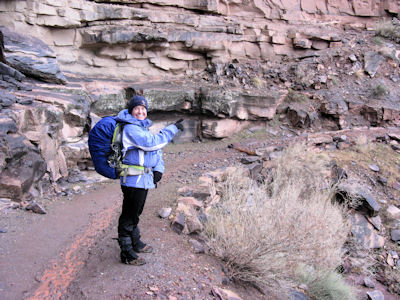 After that adventure we lay down for a while and talked until dinner. Late dinner started at 6:30 and consisted of beef stew, cornbread and salad and the same cold dry chocolate cake for dessert. I ate mine and Nancy's. I have such a strong hankering for chocolate I'll even eat bad cake. We returned to our cabin and packed our bags for our hike out the next day. Nothing to do but get into our sleep clothes, get under the covers and talk with the light out. I hoped for a better sleep and I got it. Still lots of wakeful moments, especially when the rain started again throughout the night and I heard it pelting on the cabin roof. My last waking thought was I hope the rain gets all this nonsense out of its system tonight and spares us tomorrow.
Once again we attended the 7 a.m. breakfast, and I ate well, knowing we were going to be burning some major calories on the climb out. We were on the trail by 7:45, packs heavy and quads and calves wicked sore. Nancy also had sore calves to deal with, but her quads were ok. By the time we crossed the black bridge we were ready to stop and take off some layers. I stripped down to a thin, long sleeved Techwik shirt and unzipped the legs of my pants and tucked them into my gaiters. I looked pretty silly in shorts and gaiters, but it was comfortable and that's what counted. The climb up to the Tip Off was ok for both of us. No rain, some hiker friends were coming up behind us, lots of puddles from last night's rain, and lots of picture taking. It had snowed overnight at around 5-6,000 feet and the Canyon looked beautiful in snow. Exactly what we wanted to see and here it was before us under the glory of the sun mixed with dark threatening clouds that scudded across the sky.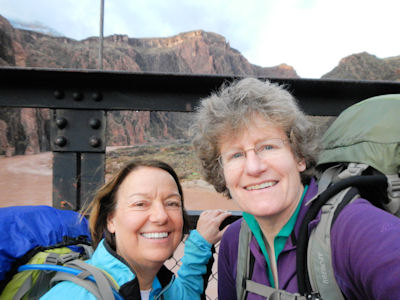 By the time we reached the outhouse on the Tonto Plateau, I realized I wasn't going to be bothered by the knee pain. All I had to contend with was sore calves and quads and a measure of tiredness. Unfortunately that tiredness increased exponentionally the higher we climbed. The switchback section below Skeleton Point was a killer and I really slowed down. I started breathing heavily and did not recover when we rested as quickly as I usually do. I would start off again after a rest still breathing hard. Then the clouds thickened and the wind grew brisk and it started to snow. I zipped up my pants, put on a thicker shirt and some gloves and kept on going. At first it was round pellets of snow. My head was covered with them since I don't wear a hat. I use my bare head to keep me from overheating in winter. Since it was snowing I put away my camera and Nancy was the sole picture taker for the rest of the hike out.
The snow thickened and began to cover the trail, at first melting and turning red as it hit the puddles. I slogged through, forcing myself to stand up straighter so I could breathe and so my pack wouldn't feel like it was weighing me down. I finally told Nancy I was having a tough time, that I was exhausted and unable to catch my breath. She was supportive but there wasn't much she could do except cheer me on, and that she did. We trudged on. We reached Cedar Ridge and knowing we only had a mile and a half left gave me hope and at the same time I felt like I was ready to sit down in the snow and stop moving. My breathing had become an asthma attack. I couldn't get enough oxygen and I was running out of gas and my body was exhausted. I had hit the wall. But none of that mattered. I still had to get myself out of the Canyon. So, on we went. Nancy took some incredible snow pictures while I kept my eyes focused on where to put my feet. Lifting my legs over waterbars was excruciating. My legs felt thick and heavy and sore and all I could do was put one foot in front of the other and take heart when Nancy cheered me on. As we approached the last switchbacks we met some hikers going down, some just part way, some all the way, and some only a few feet. We met the biologist on his way down to relieve the two young men, brothers it turned out, who were managing the weir. Nine days in then out again. We sent our regards to the young men in hopes they would remember us. They had been so engaging and kind.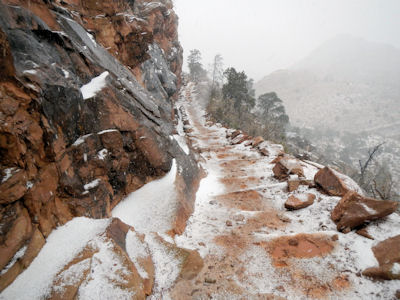 A mule supply train passed us and dug the hell out of the trail. Big rock size pieces of icy mud dropped off their hooves as they walked by. The beautiful white snow turned into a red soupy mess after they passed. We hit the last switchbacks and I was moving really slowly, Nancy behind me taking pictures and cheering me on. We peeked our heads over the edge of the rim and knew we'd made it, exhausted, cold, and we'd made it. We did the Canyon shuffle down to the shuttle bus stop and put on warmer clothes while we waited for the bus. Luckily we didn't have to wait long. I could barely step onto the bus. The driver was kind enough to lower the bus so I could get on without embarrassing myself. I was so tired of carrying that pack. I felt like a beast of burden and all I had in it was clothes, every stitch worn at least once during our stay in Canyon and the rest of my water. But it felt hard with that weight on my back. When I paid attention to it I felt it weigh down on me even further so I had to push it from my mind or I would have given in, taken the thing off, sat down, and never moved again.
Both of us were cold on the bus ride and the driver wouldn't even let us eat anything. We were very hungry. My body enjoyed the luxury of resting, sitting, ceasing to move, while inside my metabolism did everything it could to keep me warm. We finally arrived at the Bright Angel Lodge to check in - turned out we had the same room - 6114 - and the bell man helped bring our bags that had been stored while we were in Canyon to our room. Bless him. I let Nancy take first shower. I wasn't ready. I put on my down sweater and curled up in a ball on my bed and turned my brain off for a few minutes, just trying to get warm and feel normal again.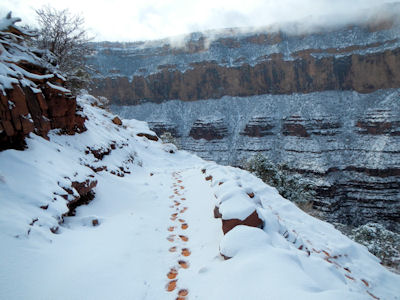 Standing under hot water for a few minutes when it was my turn to shower felt awesome. It felt great to shower and wash my hair and then dress in dry clothes. We thought we would not make it up until late so we had made our dinner reservation for 7 pm, but when we checked in we asked that the reservation be changed to 5 pm, and although the young man helping us felt a little prickly he did help us out by making the call. After dressing and letting our hair dry we walked up to the El Tovar in a beautiful snow storm. It was very festive, cold, and cheery as we shuffled along in the snow. Our celebration dinner table was in front of the fireplace and Nancy ordered filet mignon au poivre and I chose the Rib Eye Steak special. Both meals were delicious, especially my tasty mashed potatoes. Wonderful flavor that I couldn't identify. I shared them with Nancy. Then delicious coffee and hot Apple Streusel a la mode. I enjoyed every single bite and loved sharing it with Nancy. Perfect end to an incredible day.
Back in our room, Nancy packed for leaving the next day. I packed too but didn't care how the clothes were put in the suitcase. I stuffed my backpack full of dirty hiking clothes and what didn't fit was smashed in along the sides of the suitcase. Once that was done I changed into my jams and huddled under the covers reading for a while. I took a sleep aid and prayed I would sleep and rest and start to heal these muscles. It felt beyond delicious to lie down and stretch my legs, although when I moved, bent my knees or flexed my feet I woke up groaning. Once again after talking for a bit Nancy was out before I could find the way to sleep. Her iPhone was busy playing the repetitive loop of white noise sounds called CITY. Eventually I faded and slept well.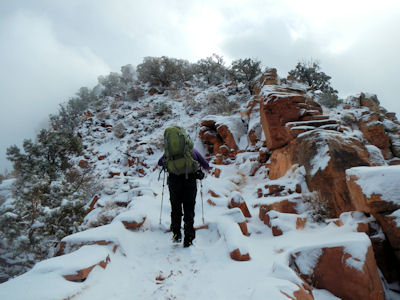 Up relatively early for breakfast, then our plan was to drive down to Desert View, stopping at view points along the way. It was cold, 17, and windy, brrr... The car was covered with frost and snow and we had no scraper. Brilliant Nancy asked the people in a maintenance truck if they had one. They did and we borrowed it. Then we were off to look at the Canyon under its blanket of new snow. We stopped at Mather Point, a popular stopping place near the Visitor Center, but it wasn't too crowded. Only the hearty or foolish were out on this chilly morning. We also stopped at Grandview Point, Moran Point, Zuni Point, Lipan Point, and then Desert View. We bundled up and walked down to the lookout, took some more pictures, then went into the tower itself and sat next to the fire burning in the fire pit. It felt so good to feel the warmth!
We were too cold to climb to the top of the tower but we managed to get up one level. The observation balcony was closed so we headed back down and then to the snack bar from some cheddar broccoli soup for lunch. Afterwards it was time to head back to the Village. We had a 6 o'clock reservation at El Tovar and we didn't want to be late. Swirls of snow flew across the road as the wind howled. It felt good to be in the car and not out in the wind and cold. We made it back to our room in time to get dressed and walk to the El Tovar for dinner. Again we ordered the onion soup and salad. No calories were burned today so a light meal was in order. But despite the lack of burned calories I ordered the chocolate mousse taco for dessert - a chocolate taco shell stuffed with chocolate mousse with the plate liberally sprinkled with dollops of whipped cream. And yes, with Nancy's help, I ate the whole thing.
The walk back after being so warm inside the dining room and back out into the cold was rough. I was shivering. We both were. Once back in our room it took me ten minutes to pack while she sat next to her suitcase and folded each article of clothing. I carried some things she worried would take her bag over the 50 lb. limit. There were people in the room next to us and although they were speaking a different language they talked until after 9 and we could hear them, but when they did stop and settle down it was quiet and Nancy and I slept well.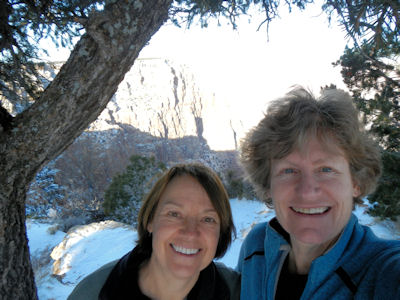 After breakfast we headed to the car, which once again was frosted and icy and we had no scraper. While Nancy went in to check out I turned on the rear defrost and the front defrost on high. It took a while but finally it was safe to drive. We headed back toward Desert View and then east on Rte. 64 down into the Painted Desert until we reached Cameron, AZ where we stopped for gas and a pit stop. This route was much more scenic, a lot of bare desert, reservations where Native Americans lived in trailers and subsisted on selling jewelry to tourists and I don't know what else. A lot of empty desert. Then we headed south on I 89 to the Flagstaff area. Out of the desert and into forests of Ponderosa Pine, a different elevation means different flora and fauna.
Once we reached I 17 we headed south but took the Sedona exit since we had the time and were looking for another visit. Again we ordered sandwiches at Sedona Memories - the guy there was rude and didn't enjoy Nancy's engaging humor. Poop on him. Lighten up. While the sandwiches were being built we walked around town, browsing through galleries and shops. Neither of us bought anything. After a bit, we returned, ate half a sandwich on a picnic table looking out at the beautiful Sedona Red Rock, then packed up and headed south down Rt. 179 which eventually took us back to I 17 and we merged into traffic heading south to Phoenix.
We didn't talk much and the silence was comfortable. I felt like I had been through an incredible experience and wasn't quite ready to start talking about it. I needed some time and quiet to let things integrate. The mood in the car, however, was open and free and positive. None of that heavy tension we can sometimes bring to our relationship.
We dropped off the rental car and got a taxi to the Best Western near the airport. It was three o'clock when we checked into our room and I flopped down on my bed. I checked email and news and Facebook and started reading. It felt great to sit and read. My heart was resting and my brain was off duty. Nancy went out and read by the pool. An hour later she came in and tried to coax me into going into the hot tub with her, but we had no clothes to wear and I let that stifle my adventurous spirit. We could have made it work and we would have had fun, gotten a relaxing hot soak and had a couple of laughs. But it didn't happen.
We showered and dressed and went to the restaurant in the motel instead of spending $60 in taxi fare to go eat at Don and Charlie's about 13 miles away. After dinner I was pooped so I curled up with my book and felt my body wind down toward sleep. We managed to stay awake until 9 pm before we gave up, turned on the white noise, set the alarm and slept.
Oh man, the alarm was a brutal awakening at 5 am. I reacted without being fully awake, sat up and turned on the light. Bang. Really fast. No transition, no snoozing. I barely knew what I was doing. We dressed and gathered our luggage and headed for the shuttle. We ended up on the 5:15 shuttle and we arrived at the airport with plenty of time to get through security and buy some breakfast food. The rest of the day, the flights were on time, landings were a little twitchy because it was really windy out, and we made it back to my car around 5 p.m. and drove home in relative silence. I was tired and excited to see Hamlin and be home. I had been anxious about returning home - sometimes reintegration can be very hard - but it was fine. Hamlin was happy to see me, as was Pinta. I felt ok. I was home. And it is not easy to have such an adventure, to be with someone all day every day for a week and then simply walk away, back into our own lives. But that's what we do.
This was a wonderful trip, full of grace and healing and laughter and exhaustion and testing limits. I am looking forward to the next one.