Grand Blessings
Grand Canyon, January 23-31, 2013
Submitted by Nancy
The Grand Canyon is filled with blessings - 275 miles long, ten miles wide, one mile deep -- every nook and cranny filled with blessings. And I discover more in me, every time I go.
The Psychic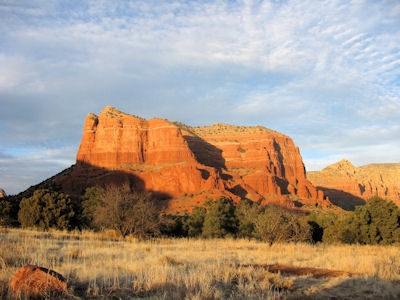 The blessings from the Canyon start before we even reach its rim. We're in Sedona and I leave Pat at a Day Spa for a massage on her sore stiff neck and go in search of a psychic. Every other storefront flashes neon psychic reading signs, so I figure someone here has to have the answer.
I hold Reese minutes after she is born and her love melts my heart. I know in that instant, and continue to know in every moment since then, that I want to be a constant in my granddaughter's life, not a visitor in, but a regular part of. She lives in Denver, Colorado, with her parents, my oldest daughter Kelly and her husband, Justin. I live in Keene, NH. That's the problem.
My husband Don and I talk about moving; we even tell the kids that's the plan. But Don's not ready to retire. And, for me, thinking about leaving Keene has tightened the tether that ties me to this area, my love of the people who live here, my friends and family, and this community with its pumpkin spirit and beautiful downtown and the White Mountains a few hours away. Keene has witnessed my passage from adopted 6-month-old to grandmother and place becomes heart after a while.
So I go back and forth to Denver to visit as often as I can. When I am in Denver with Reese, I miss Don and my golden retriever Karma, my friends and my work. When I am home in New Hampshire with Don, doing all my favorite things, I miss cuddling Reese. I am not whole in either place. I am sure this is not what my life is supposed to look like, torn in half and always leaning toward where I'm not. There has to be a better plan and a Sedona psychic surely knows.
I see a cool looking shop with a sign outside saying psychic readings. I walk in, pass the crystal balls, rare stones and minerals, aromatherapy tincture bottles and candles, the jewelry and self-help library, and ask the store clerk timidly, praying on the inside, for a psychic reading. The woman tells me with kindness, there is no one available. I leave the store and walk along the sidewalk. It is spitting rain and that is how I feel, like spitting right back at the rain and at God and the gracewave and everyone else who refuses to help me figure this out.
Eventually I turn around and walk back into the store and browse, fantasizing that the psychic shows up unexpectedly because she can feel my need, can see my beautiful aura, and sense my incredible energy. I imagine she grabs my hand with love and urgency and leads me past the drapery into the reading room, impatient to impart all the exciting things she sees in my life. That doesn't happen. So I pick up a book from the guru library, Loving What Is by Byron Katie, and sit down to read it. But I don't really want to love what is, so I strike up a conversation with the store clerk.
She is so welcoming and kind, tears come to my eyes and I don't even try to hide them. Somehow it feels okay to cry in an agate and angel-filled new-agey psychic rock shop. She tells me about herself, how she moved to Sedona from Connecticut a few years before, leaving her family and friends, and how she loves it here. She says she went to a psychic who told her she was going to move to Sedona a few years before she actually moved. Then she says something that stirs me. She says that psychics tune into our own higher wisdom and inner knowing and tell us what they see.
I buy Loving What Is, thank her for her kindness and leave.
This is a familiar theme for me, looking outside for answers that are somehow inside...blah to that. I hate it when I think I have learned something and then it shows up again. When I realize that same infuriating thing is lurking, I say with annoyance, Hey! What the hell are you doing here? I've already got you figured out! God or the gracewave or my still small inner voice answers, Look asshole, you haven't got it yet, obviously, or it wouldn't be turning up again...I picture Goddess fingers drumming on the table impatiently here.
I am always looking outside of myself for someone out there to give me the plan. I like plans because then everything is all figured out and I know where I am going next. Then this store clerk, turned therapist, tells me that no one really knows what I need to do, except me. That it is all inside of me. I hate it when everything comes back to me. Sometimes I'd like the responsibility to be on someone else's shoulders. Isn't that what God is for? Isn't the gracewave supposed to take care of that for us?
Eating seems to be the answer. It almost always helps, temporarily. We place a To-Go order from a sandwich shop, Sedona Memories. The sandwiches are huge and even if I open my mouth as wide as it will go, which, by the way, is very wide, I can barely get both pieces of bread and all the goodies in between in. Just what I need to numb the anxiety swirling around inside me.
Slow Reveal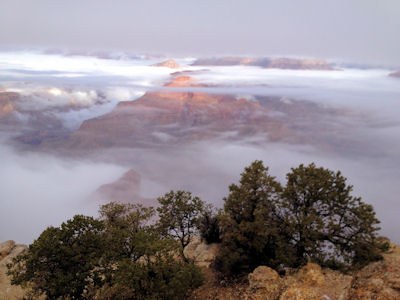 We walk out to the rim of the Grand Canyon, or at least we think we do. I recognize the Bright Angel Lodge and the El Tovar Hotel and the path along the rim connecting them. But beyond the walkway, there are just clouds. I have never seen the Canyon hidden like this before, it has always been right out there, proud of its grandness. I wonder what first timers think when they finally arrive at the Grand Canyon and there is nothing but clouds filling the void that has brought them here.
I am aware of the holy-crap-I-can't-believe-we-can't-see-shit place in me, but I don't give it any attention. A tentative voice inside says that maybe we will see something today that most people never get to see. As we stand at the edge of the abyss, we begin to see the very tops of the buttes poking up above the white softness, as if they are tiny islands in a sea of clouds.
We meet a family on the rim, a mom, dad and two grown children, and I ask them if this is their first visit to the Canyon. They say it is and I tell them that it is beautiful, that it is magnificent, that it is worth seeing, even if you can only see tiny bits of its grandeur peaking through. I tell them Pat and I have hiked through its inner spaces, that going down and in is where the true beauty lies. I tell them that I have paddled the Colorado River through the Canyon twice, changing my life. I hear my own voice. It is filled with enthusiasm and my love of this place and my joy in sharing it feels like it is just overflowing out of me and spilling all over this unsuspecting family as they look at me. How did your rafting trip change your life? the dad asks. I pause. I look at him, right at him. "I discovered I had so much more of me in me. More than I ever dreamed," I say, choking back the emotion. "Thank you," he says. "I'm so glad we ran into you."
As we walk away, Pat puts her arm around my shoulders, as I wipe away my tears. "That was beautiful!" she says.
Hermit Road, which runs along the rim to the west, is open to passenger cars only in the winter, an adventure we have not yet had! We stop at each outlook -- Powell Point, Hopi Point, Mohave Point, Pima Point and finally Hermit's Rest. At each vista a different part of the Canyon is visible through the clouds, teasing us with slivers of beauty. Pat and I scurry out of the car at each vista, grabbing our cameras, excited that a bit more of the Canyon is visible. The light and clouds work like an artist, dancing along the giant canvass, intermittently exposing the myriad hues, layers and shapes of this great masterpiece. I know in my heart that seeing the Canyon as it slowly reveals itself is a gift, even as I am impatient for the whole picture. As the day grows, more and more of the Canyon's beauty shines through. I love life most when I notice the beauty shining through.
The Man in the Poncho
Pat and I don our backpacks, stuffed with everything we think we'll need in the Canyon, hop on the Hiker's Special bus and head to the South Kaibab trailhead. It is dreary, gray and cold. As soon as we step off the bus, it starts to rain. Really rain. And it is windy...and cold. We put on rain pants. I am trying to stay centered in myself and not spiral down into the I-can't-believe-it's-fucking-raining place. We start hiking down.
Did I say it is raining? The trail is a slippery slide of red mud, and the Canyon is filled with white clouds, and Pat and I soon realize that our winter parkas are not waterproof. We get to Ooh-Aah Point, a mile down into the Canyon, and there is nothing to ooh and aah at. The rain has infiltrated the sleeves of my jacket and I can feel water running down my arms. We are wading through red muck. I wonder if this is what e.e. cummings meant when he said, "The world is mud-luscious and puddle-wonderful." It's all in the attitude.
The trail along the red rock begins to take on the look of a long canal of rust-colored water and avoiding the deepest puddles becomes a test of balance and desire. We are closing in on Skeleton Point, about 3 miles down, when we meet some hikers coming up, an older man and woman, each draped in a plastic poncho. We stop and chat. As we part, the man gives us each a double fist bump and says, "We are exactly where we are supposed to be." The rain is splashing off the top of his plastic-covered head; raindrops roll down the side of his face and speckle his glasses. Pat and I are soaked, the rain is pelting our packs and the lower third of our rain pants are covered in brick-tinged sludge. "We are exactly where we are supposed to be." The miracle is that he does not say this sarcastically with a roll of his eyes. He says it with true joy, with overflowing love-in-the-moment joy. My eyes fill with tears. I am very aware that I have just been blessed.
As we descend, we find ourselves below the clouds, in the inner gorge of the Canyon. The further down we hike, the more of the Canyon we can see, and then finally there, through the rain and the mist, is the river, the deepest knowing in the Canyon. Over the black bridge, around the corner, up the creek bed and we arrive at Phantom Ranch, drenched, dripping and cold. As we approach the canteen to check in, a staff member opens the door with a smile and says, "Welcome to Phantom Ranch. You look like you could use a hot drink."
Traditions
We are sitting on a bench at Phantom Ranch near the creek talking to some fishermen; nine guys who turn the Canyon into a man cave every January to fish, eat and drink. They catch their dinner, a dozen trout, that they are cleaning on the rocks next to the stream.
It starts to rain, again. But the sun is out and bright. "There's a rainbow somewhere," I say.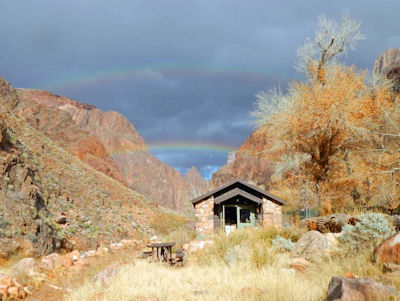 "Look," says one of the fishermen, pointing off to our right. "There it is!"
A beautiful rainbow arches from one side of the inner gorge to the other. Over the next few minutes the rainbow doubles, gets neon bright, lingers, flirts with the Canyon walls and then gradually fades. The fishermen are as thrilled as we are - taking pictures and pointing, exclaiming how beautiful and how lucky.
That night in the canteen, we're eating beef stew and cornbread, salad and chocolate cake. A young woman and an older man sit next to me. I ask them if they arrived today. The man answers yes, the young woman is quiet. It feels like the conversation is going to be hard work. I ask them if this is their first time in the Canyon. The man says no. "I have three children," he tells me. "I bring each of them here when they graduate from high school and then again when they graduate from college. This is her second trip here; I still have two trips to do with my younger son."
I look at him, stunned. He's smiling, helping himself to salad. "Oh my God, that is awesome!" I blurt out excitedly. Inside, thoughts are swirling around -- I wish I had done that for my kids, wish I had known to do that...
"What an incredible gift," I say to him. Then I say the words that are closest to my heart. "I wish you were my father," I say to him. That is the closest to the truth that I can get in the moment. He elbows his daughter and smiles at her, hoping she gets the message. I can tell she already knows how lucky she is.
Right then and there I think of Reese. I picture cradling her in my arms, minutes old. I imagine holding her 6-year-old hand, pointing her towards her first view of the Canyon. And then I see her as a teenager, slinging on a backpack with a smile of anticipation, walking by my side as we set foot on the South Kaibab Trail, her first hike into the Grand.
Lace Petticoats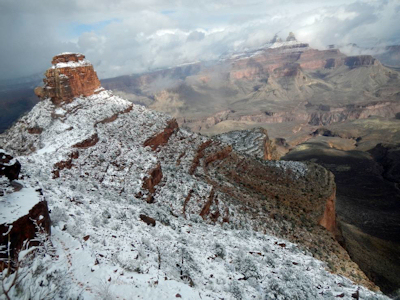 The Grand Canyon is my inner home; it is where I feel most me. So getting to know her, is getting to know me. I want to experience the Canyon in all her moods and seasons; I especially want to see her dressed in snow, hence this winter trip. When we leave the bottom of the Canyon at river's edge and head up the South Kaibab Trail toward the rim at 8:30 in the morning, there are patches of blue sky amid the clouds. According to the weather forecast posted at Phantom Ranch, they are calling for a snowstorm on the South Rim.
It doesn't take much elevation gain before the temperatures get colder, the wind starts biting my cheeks and the clouds start tossing raindrops. Pat and I stop and put on a warmer outer layer. We are a little more than half way out of the Canyon when the snow begins. It starts as flurries, but before we know it, we are being pelted with mini-snowballs. It starts to accumulate, especially in Pat's hair!
By the time we get within a mile of the South Rim, we are walking in five inches of new snow. I stop and look out at the Canyon. Take a deep breath. Let it in. I am standing in stunning beauty. Every rock formation that reaches toward the sky looks like it is wearing a lace petticoat. The upper layers of the temples and buttes are skirted in white fluffery. The trail, which was filled with red puddles on our way down into the Canyon two days ago, is now snow-covered. As we walk, the red oozes through, leaving our footprints in wine behind us. If it is possible, the Grand Canyon is even more wondrous in her winter finery.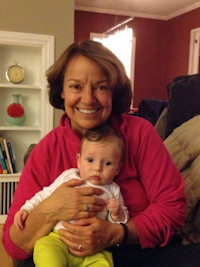 A Second Chance
Leaving the Grand Canyon always brings tears. Knowing I will be back is the only way for me to leave the Canyon with any grace.
We decide to drive through Sedona for lunch on our way back to the Phoenix airport. It's beautiful there, and, it's home to that 4-inch-high turkey sandwich with avocados, cashews, sprouts and cream cheese of Sedona Memories fame.
As we wind our way down into Oak Creek Canyon nearing the red rocks of Sedona, I realize I have another chance to find a psychic to do a reading for me. But the desire is gone. My urgent need for direction has been replaced with an inner knowing that I have the answers inside of me and that it is in the moment that we truly live, not in the plan.
Before leaving the South Rim I buy a book for Reese entitled, Do Princesses Wear Hiking Boots? by Carmela Coyle. That will have to do for now, until she is old enough to lace up those hiking boots and head into the Grand Canyon with her grandmother.