Acadia National Park, Bar Harbor, Maine - August 7-9, 2006
Submitted by Nancy
---
Picture Gallery

Video Clips
Nancy on the Precipice Trail
Pat on the Precipice Trail

Penobscot Mountain, August 8, in the morning


"The Most Rewarding Hike in All of New England," reads the headline of the article I tore out of the 1988 Yankee Magazine's Travel Guide. It's so true. I'm doing it for a third time with Pat, hiking partner extraordinaire.

So here we are in Acadia National Park on the Jordan Pond Shore Trail -- an alternative to the carriage road I had used before. What a beautiful surprise - a boardwalk all along the shore of Jordan Pond, with the Bubble Mountains off to the right, and the pond reflecting the view; gorgeous. At the end of the pond we join the Deer Brook Trail and I am back on home ground. It goes up a steep incline maybe a mile along a wooded brook. We arrive at Sargent Pond, sweating and breathing heavy, per usual. Pat calls this the good stuff.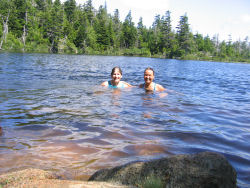 Yankee Magazine describes Sargent Pond as "one of America's most soulful swimming holes - a secluded, tree-ringed, spring-fed oasis between the summits of Sargent and Penobscot Mountains." I am hot, sweaty and ready for a dip. Well, not so fast. When we arrive at the pond, it is silent and quiet, not a soul in sight, but the wind picks up and I feel a slight chill - enough to put a damper on my dipping desires. Well, maybe not, as I watch Pat strip to her bathing suit. She steps into the water and makes a noise that makes me want to run in the opposite direction and put on fleece. Oh shit - it must be cold! I take off my hiking garb - yes I am a brave girl - still not whole-heartedly sure I am going in. My first step affirms my thinking is reasonable. But before I know it - Pat dives in! Splash! Oh shit! I gotta go in now! Get the fuck in. I ease my way in and to my relief and surprise - it feels great! We swim to the middle of the pond to get a view of our destination, Penobscot summit. It feels like I am enveloped by cool silence and natural beauty. Bliss. Sheer bliss.
Just as we are drying off, people start to appear. A few couples with no intention of swimming...idiots. Then a younger couple, prepared with suits. We leave them to enjoy the silent solitude. We set out to the top of Penobscot (elevation 1,194). A short 10 minutes climb and we are on top with 360-degree views of Jordan Pond to the left, Bar Harbor and Frenchman Bay straight ahead and Katahdin looming in the distance behind us. Incredible!
Views from the top always take my breath away. No matter where we are, being on a summit looking out over the world below me gives me a perspective that both empowers me and puts me in my place. The view is truly my hiking reward and I relish it each and every time. I always take a few deep breaths which sometimes loosen up my heart and tears come. I don't know why - they just do. And then they're gone and I'm back to me, but different.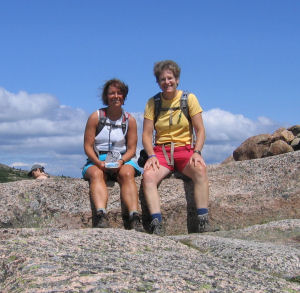 The Penobscot Mountain Trail follows an open ridge with panoramic views of Mt. Desert Island, the Cranberry Islands and the Gulf of Maine. Pat was probably tiring of my mantra - God, this is so beautiful...Oh my God, it's so beautiful...Oh my God... Words fail me, but my heart keeps singing.

After a short steep scramble down, we arrive back at Jordan Pond House at 12:22 for our 12:30 lunch reservation. Timing: Perfecto! We sit outside at a picnic table in the sun looking out at Jordan Pond and enjoying the best food of the trip - curry chicken salad for me, shrimp salad for Pat, fresh squeezed lemonade, and the best part...drum roll... piping hot popovers. Yes, we have two each. And we're not done! For dessert...drum roll...popovers with ice cream and chocolate sauce. Oh my God... my mantra starts anew. This is so good. Oh my God...this is so good...

Bliss...

Champlain Mountain, August 8, in the afternoon


Research on Acadia National Park trails reveals the following: "Precipice Trail (Iron rungs & ladders, very steep) - This is the most challenging and well known hiking trail in Acadia National Park with an exposed and almost vertical 1,000 foot climb that's only recommended for physically fit and experienced hikers with no fear of heights. It is sometimes closed late spring through mid-August due to returning and endangered peregrine falcons."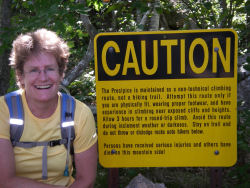 This hike has Pat's name all over it. She loves the challenge of straight up. Once Pat spots a trail description using words like vertical, very steep, strenuous, sheer rock face - she's in her element and hooked. Her only remaining challenge is talking me into it.

We did a peregrine falcon check at Park Headquarters. Yes, the Precipice Trail is open. A quick high-5, big grin on Pat's part. We are psyched! Well, she is.

We have a hard time finding the trailhead. As we are driving, I spy a vertical line of people barely hanging onto a sheer rock face halfway up the side of a mountain.

"Oh shit, I bet that's it." I say, as my heart dips to my crotch while Pat's heart swells with excitement. Her face looks effervescent with anticipation.

We hit the trailhead and up we go. We pass a few warning signs - thank you very much for trying - they make me feel a bit queasy but seem to have no effect on Pat except to quicken her step. The trail is steep right away and within the first five minutes we come to our initial challenge. It is a huge boulder across the trail, probably 10-12 feet high with one rung half way up the side and one handhold on the top. Okay - are they thinking I'm supposed to be able to reach either of those? Pat -- stronger, taller, more courageous -- is up on top before I have a chance to study her approach. Okay - I can't do a split and still get leverage on that foot unless I want to break my ankle - which would give me a better angle... Pat offers a hand; 1...2...3... I'm up. But I have to say if this little arrangement is a precursor to what is coming - I am in serious, serious trouble. When I hit these tough parts, it flicks a switch inside me that says - "O Holy Shit!" Like the Christmas carol only worse. And the "O Holy Shit!" button stays on for a while; it takes time to fade. Perhaps I should invest in one of those Staples "That was easy" buttons. Have you seen them? They had them on sale before last Christmas and they use them in their commercials. You hit it and it says "That was easy." Hey! Yeah! I could bring it on the trail and hit it each time my "O Holy Shit!" button goes off to counteract the adrenalin-fear-panic thing that happens. Yeah - that's what I'll do!

The next section of the Precipice is scrambling over and under huge boulders -- fun for both of us.

Then I see it - the sheer rock face - totally vertical with ladder rungs going up the side. "O Holy Shit!" "That was easy." Pat was happy. I was doing a pretty good job of keeping myself calm, putting one foot in front of the other - whoops - one foot directly ABOVE the other. "O Holy Shit!" "That was easy." Now a1,000-foot vertical climb affords awesome views, of course, because there is literally nothing from your big toe to the view, except the roadway the hell down there, and beyond that, the ocean. Up and up and up, don't look down, and up and up and up, don't look down.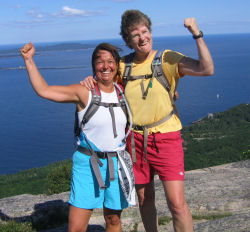 I can tell we are almost there. We finally heave ourselves over the last boulder with the help of an iron rung and land on the "almost summit" to the cheers and applause of a group of people standing there watching us. A standing ovation...for us? Are you kidding I ask myself as I take a bow. The applause continues, complete with "Yeah!" "Awesome work!" and "Good job!" We join in the cheering; it is contagious. It is a family and two couples who are making all the noise. They had made it up the ladder and rung vertical obstacle course just before we did. And they are proud of themselves and that transfers to proud of us when we arrive. Wow -- it feels so great! It brings out all the joy hiding inside me and blows it out there for all to see. I just can't hold it in!

We chat with them and take victory pose pictures. Then, we see two heads above the top boulder working their way up that last rung, and we all start clapping for them. "Whoooo Hoooo" I scream, thrilled we get the chance to pass it on. It feels just as awesome to give as to get.

We climb the last bit to the summit of Champlain Mountain (elevation 1,058) and bath in the views and the sun for a while before heading down the East Ridge Trail that eventually joins back up with the Precipice trail, but after most of the chutes and ladders. On the way down we see a very young couple going up the Precipice. She has on flip-flops with a band-aid around one of her big toes. Okay... Whatever...We do have a final meeting with that first rung that had given me so much trouble going up, you know the "Oh Holy Shit!" "That was easy." one. I follow a fellow hiker who had the same issues and we find a detour. No detour for Pat!

We did It! High-5!

Cadillac Mountain, August 9, in the morning


Cadillac Mountain, in Acadia National Park, is the highest point along the North Atlantic Seaboard at 1,532 feet. We set off on the Cadillac Mountain North Ridge Trail around 9:30 a.m. It is a 4.4 mile up and back hike on one of the most perfect mornings I have ever seen. We meet very few people on the way up and enjoy the steady incline on an open ridge with views behind us the entire way.

The sun is big, fat and hot, the sky is cloudless blue, and the breeze is drying my dripping sweat. We can see Bar Harbor, and the polka dots of earth sticking up from the ocean that make up the Cranberry Islands, and all the way out into the Atlantic.

We each place a stone on one of the rather sparse cairns near the top and then notice a sign saying not to do what we just did. Apparently Acadia does not want hikers to add stones to the existing cairns. Needless to say, that pissed me off and I wrote a position paper on it. Check out the Cairns 101 Missed Class on the website under "Stuff That Matters."

We arrive at the summit and are greeted by 15 million people -- there is a paved road to the summit and it appears that many, many, many people drive. There are parents yelling at kids, kids running away from parents, parents shaking their index fingers at kids, kids skipping and screaming, couples kissing or fighting, grandparents with walkers and canes, people everywhere! We find a hot rock, take off our boots, prop up our heads, and prepare for a 20-minute-moment of bliss. Not so fast. Wayyyyyyyy too many people! There are people walking all around us, talking, pointing, giggling, running, jumping... Jesus! We move down the hill to another hot rock where we spend a half hour with 500 of our closest friends. Almost bliss.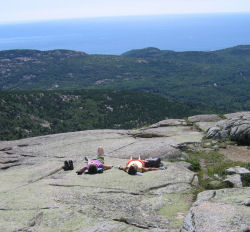 Now -- I take the lessons we learn on these hikes to heart. And I know we will be sorry if we don't get a picture of this almost blissful moment. And that, I think, will be relatively easy since there are a million people around. I walk bare-foot on coarse rocks, ouch, uncomfy, up to a nearby couple (I didn't know they were semi-weird or totally unfit) and I ask them if they would mind taking our picture while we are lying down relaxing. They exchange looks, and seem to have difficulty with the concept of a camera. Meanwhile, Pat is lying in the sun, enjoying the exchange. Finally, the woman tells her husband that he better do it because he has better footing. Holy Shit -- we were only 10 feet away! He manages after some strain to move a foot or so closer to Pat and me. C'mon buddy -- about 9 feet to go here. But he wasn't getting any closer. What? Do we have cooties? He took the picture, handed me back the camera and left with his wife, leaving me shaking my head and Pat laughing.
Lesson -- taking good pictures of bliss moments is not as easy as it sounds.
Ten more minutes of bliss and we were off down the mountain with half a million other people. Oh my God! We barely get ten consecutive steps in before we step aside to let another group of "uppers" have the right of way. Now I take advantage of each pull-off, tilting my head to the sun, breathing deep, taking in the view and generally being lazy and lollygagging. Pat on the other hand definitely wants to get on the trail. We finally make it down around noon.
Off to Millinocket to hike Katahdin, Maine's highest summit -- our next 4,000 footer! Yikes!