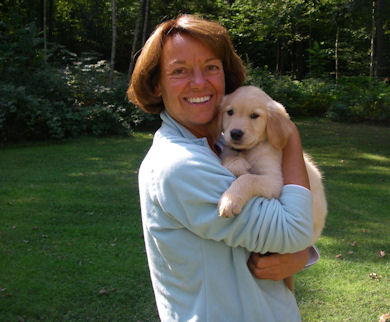 Nancy Sporborg
You're looking for Nancy? Well you'll probably find her in one of her two favorite places - on a mountaintop in the White Mountains or in the Grand Canyon. If you've looked there, then try running around the streets of Keene or see if she's teaching a fitness class at the MoCo Wellness Center. No? Maybe she's at STERLING Design & Communications working on a marketing project. Not there? She must be taking a walk with her beloved husband, Don, and Karma. No luck? Maybe she is visiting her daughters, Kelly, in Denver, CO or Jess in Fairfax, VA. Wow, not there either. Well, I'm not sure where she is. Ohhhh... you found her...in her home office, surrounded by Pumpkin Festival memorabilia, working on her Mac!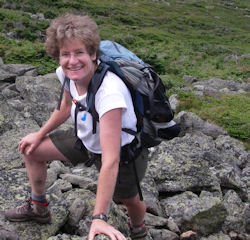 Pat Piper
You're looking for Pat? You'll probably find her hiking one of the 4,000-footers in New England or in the Grand Canyon with Nancy. If you've looked there, try checking Monadnock Humane Society where she volunteers. Not there either? Huh...well, check to see if she is at work as Director of Support Services in the IT Group at Keene State College. Or maybe she's releasing work stress, spinning her brains out at Keene State or in a weight class at MoCo, or running a five-mile loop around Keene or riding her bike. Did you check to see if she is home at Boulder Ridge, feeding the goats, chickens, ducks, fishes, horses or dogs? Unless she's finished the chores and then she might be working on our website on her home computer or sitting on her front porch with a Diet Pepsi watching Mt. Monadnock fade in the dusk.
Credentials
As of January 2011, Pat Piper and Nancy Sporborg have reached the summit of over 190 mountains, hiked over 1,250 miles and gained over 336,000 feet in elevation. They have completed climbing the 67 4,000-footers in New England and have 12 left to complete the 100 highest. They know the mountains, the trails, the pitfalls, and what is required physically, mentally and emotionally to reach the summit. They are exceptional leaders, motivational coaches and enthusiastic cheerleaders and have worked extensively with groups. Both women are certified in CPR and Wilderness First Aid Training. Nancy is currently an employee of MoCo Arts Wellness Center, teaching group classes in aerobics and strength-training.